What Is the Best Recruiting Email Subject Line in 2022?

We have surveyed our AmazingHiring fans and the sourcing community from all over the world about their favorite recruiting email subject lines that work best for the first contact with a potential candidate. We have picked the most popular and most creative ones. Enjoy the list and feel free to share it with your colleagues.
The list has been updated for the agenda of 2022 when remote work opportunities and WFH opportunities are very common. You can also download the PDF with 50 email subject lines to come back to them when can't think of a new subject line.
Most popular recruiting email subject lines
Using the company's name

Company name: Your future job is here  

Hey (First name), have you already heard of (Company name)?

Still enjoy getting up on a morning for (Company name), (First name)?

Front-end Developer at (Company name) (USA, full-time, remote work)

Greetings from (Company name)! – (Job title) Opportunities

(Company name) The engineering team in Warsaw welcomes (First name)

(First name), a quick note in regard to a Software Engineer role at (Company name)

(Company name) – the best place to work at

Leadership at (Company name): An Action not a Title
"New opportunity" or a "Dream Job"

A conversation about the future!

Are you currently happy with your employer/ position?

A Job that will change your world – Click here

Have you heard about our new opportunity?

Excellent Job Opportunity

New opportunities offshore for Martin?

*change "offshore" and "Martin" to your needs

Amazing Career awaiting for you with your dream company
Skills- or Job Title-Based Subject Lines

Software Engineer Opening – Salaried in Austin!

Java Heaven! > or Compliance Heaven! >

Their Greatest skill and then the word Heaven! and then the > sign

A call to arms for (Job Title)

Hi (First name), I am reaching out as the Senior Leadership team in our Transportation division is impressed with your background…
#1 Playbook: The Ultimate Guide to Sourcing on Social Media
Subscribe to AmazingHiring's sourcing newsletter and get the #1 Playbook: The Ultimate Guide to Sourcing on Social Media
Unsubscribe at any time
How do I know the skills of a candidate?
If you want to know specific skills that a candidate has to make a reach out more effective, use a professional sourcing tool like AmazingHiring. It automatically searches for the right candidates across 50+ sources (like LinkedIn, GitHub, Stack Overflow, Facebook) and provides information on what skills they have. Apart from that,  the AI also provides sources with direct contacts of the programmers.
Moreover, it also covers "passive candidates"– those who don't post resumes on the job boards. Thanks to AmazingHiring, recruiters do not need specific knowledge for tech recruiting – just set the initial parameters to get the best match!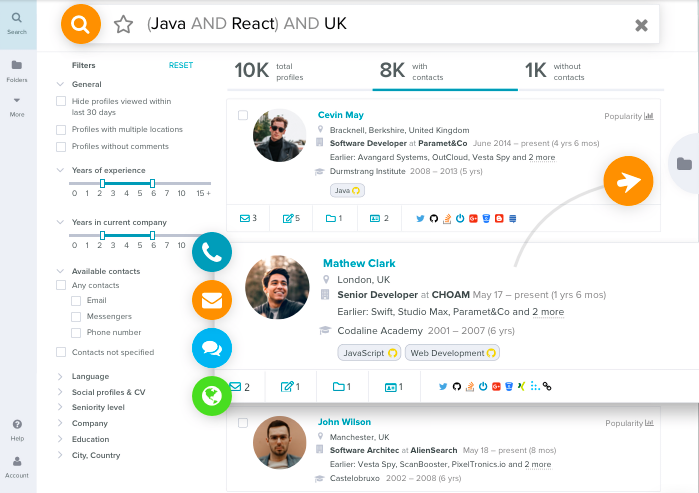 You can start by testing AmazingHiring's free Chrome extension to find the skills of the candidates you are interested in by sourcing their social and professional networks.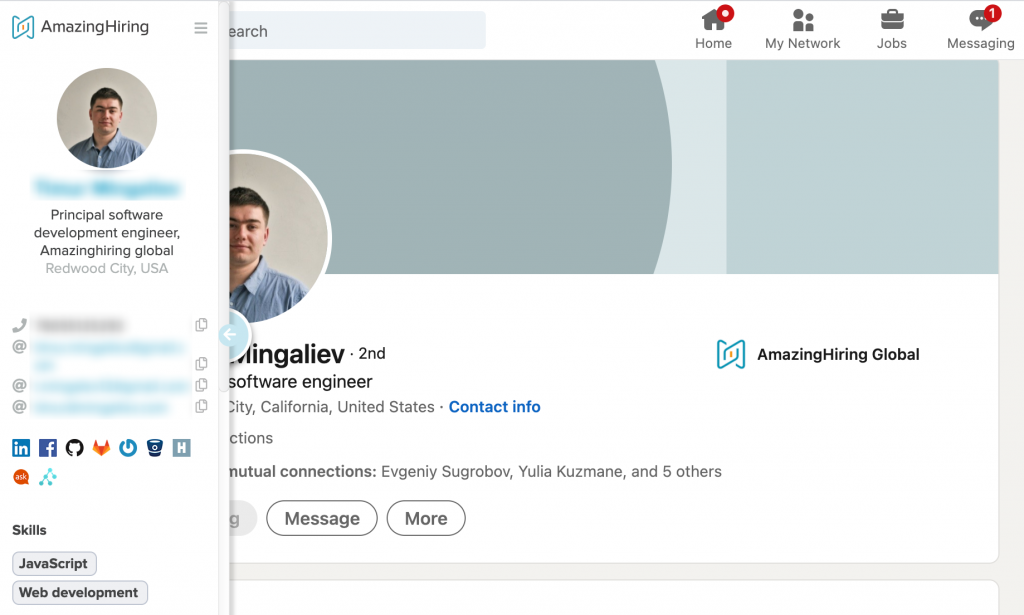 Salary matters
$1xx,000 Opportunity

(Company name), 20k strong and growing! Learn more inside
Remote job opportunities subject lines
WFH or Work From Anywhere — a hot job for a software developer like you

Continents (countries) won't come between you, (Name), and this job opportunity
Most creative recruiting email subject lines of 2022
(Target's job function) + (Target's hobby or another non-work data point) = Your next job?

Looking for software talent, I have found you, (First name). ❤️

Let's build the technologies of tomorrow with rolling stock development!

We Need To Talk (about your boring job)

We are passionate about technologies and hope to share this passion with you!

(First name), your resume caught my interest

I've heard a lot about you, now I want to find out if all of the good things that I have heard are true!
In our next chapters, we tell about how to create a cold email to the candidate and how to follow up them.
If you're looking for tools to set up the candidate outreach, check this article of ours.
Finding this article insightful?
Top Recruiters create content for AmazingHiring.
Subscribe to receive 1 curated newsletter per month with our latest blog posts.
80% of Tech candidates are passive.
Level up your outbound
sourcing strategy.
Improve your reply rate by 30%!
AmazingHiring allows you to immediately interact with the relevant candidates with the highly targeted personalized messages, create the follow-up sequences, and track your outreach metrics.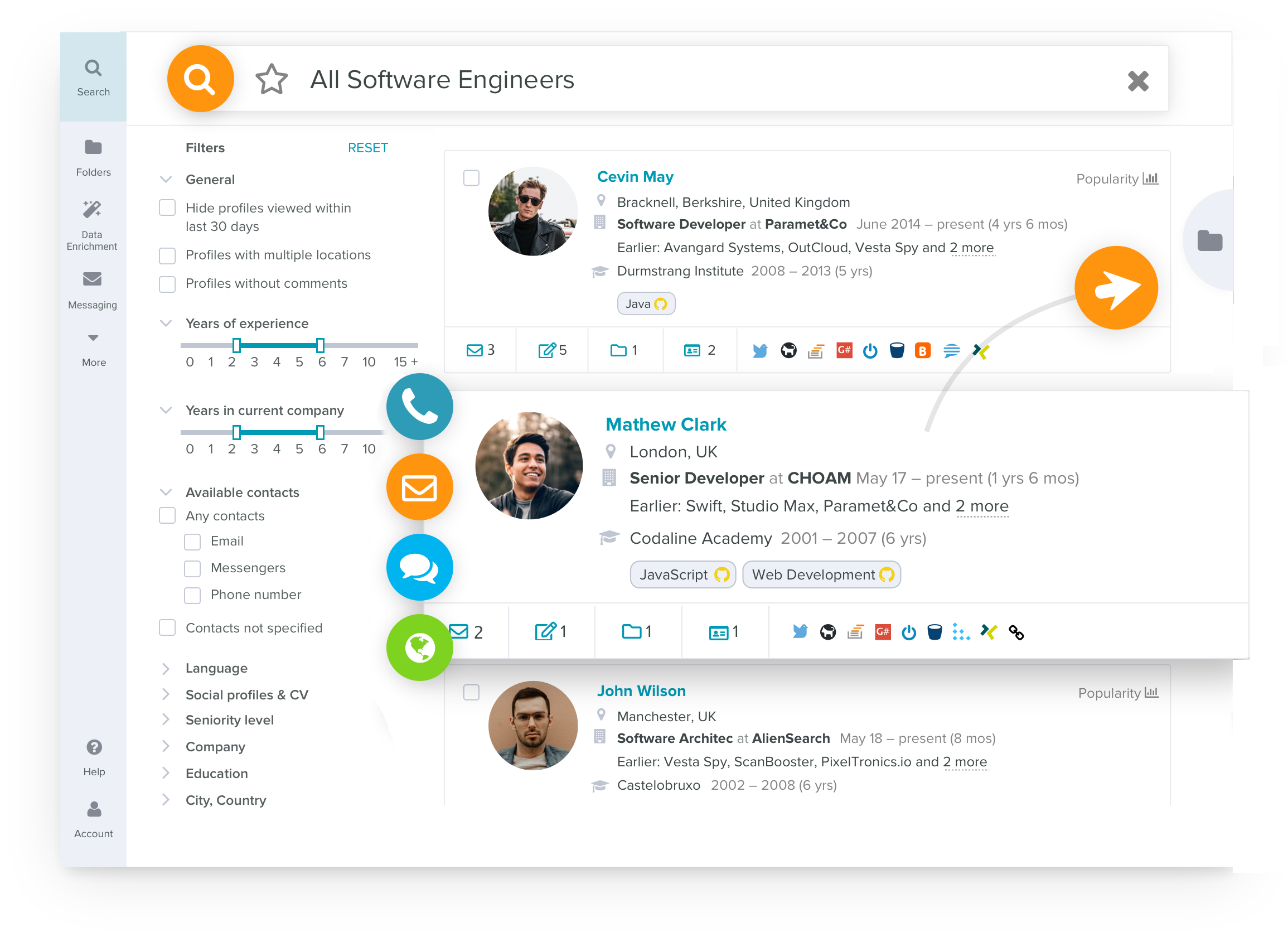 Book free demo
#1 Playbook: The Ultimate Guide to Sourcing on Social Media
Subscribe to AmazingHiring's sourcing newsletter and get the #1 Playbook: The Ultimate Guide to Sourcing on Social Media
Unsubscribe at any time
If cold and warm emails to candidates cause you as much pain as they do to us, and you are looking forward to improving your daily performance as an HR or recruiter, this article is for you.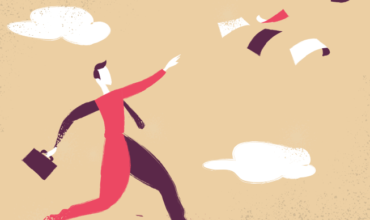 It's quite obvious that following-up your candidates is a must-have for every competent recruiter. Not only after the interview is finished, but on each stage of the recruitment process. The most intriguing thing here is how to follow them up to get responses and, preferably, positive ones. AmazingHiring team has been working with tech candidates […]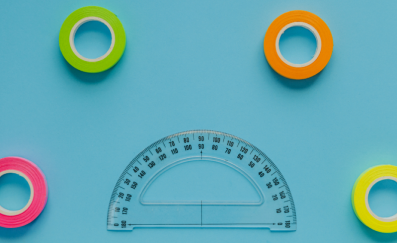 Disclaimer: The article is created based on materials provided by Yves Greijn, Lead Engineering Sourcer (ex-QuantumBlack, now Miro), Neha Naik, CEO of recruitgyan.com, and Monika Nemcova (AIHR, ex-Content Marketer from harver.com) How do you measure your recruiting success? We have prepared an ultimate list of recruiting & sourcing metrics to be checked regularly. All metrics formulas can […]

-->