Best Email Automation Tools for Recruiters to Use in 2021
How to set up the candidate outreach right
Recruiting challenges of 2021 start at the very beginning of the pipeline — with the search for the right candidates. It's not an easy task to complete, especially when there is a lack of specialists for certain technical jobs in some countries. Plus, the fact that the best specialists are not usually considering new job offers.
Today in order to succeed, professionals do not hesitate to use the best tools for recruiters available on the market, especially those that help save time on the sourcing and communication with potential hirees.
Speaking of communication, instruments for recruiters for cold candidate outreach become more comprehensive each year, adding features like email templates, personalization, and sequences, which might save you a lot of time and resources during the candidate search. E.g. here at AmazingHiring we started as the sourcing tool but now also offer a recruitment email outreach automation solution to save recruiters' time and to automate emails to candidates when reaching out to introduce the company, the job opening, send follow-ups, keep in touch about new job openings, etc.
If cold and warm emails to candidates cause you as much pain as they do to us, and you are looking forward to improving your daily performance as an HR or recruiter, this article is for you. Here we list the best emailing tools for recruiters available in 2021 and share how automation of communication with candidates will help you go through the most routine work to perform more effectively.
Types of email automation tools available on the market in 2021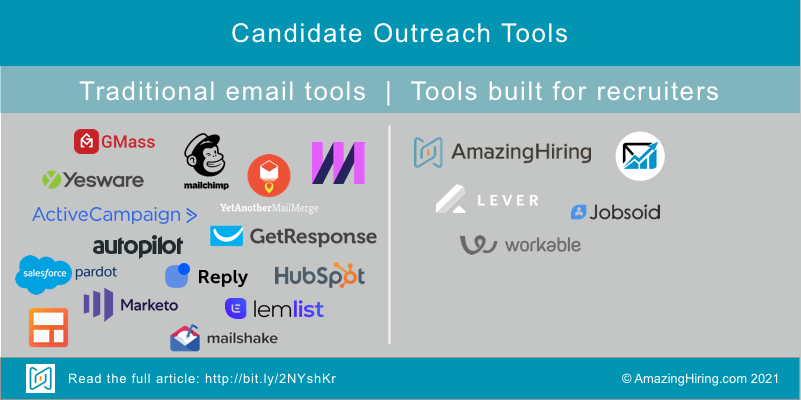 Traditional email marketing automation tools
There are plenty of traditional email automation tools that have been used not only by marketing and salespeople but also by recruiters for ages and proved their efficiency by staying on the market for years. Some of the most well-known solutions are Mailchimp, Autopilot, GetResponse, and ActiveCampaign. Of course, these tools could help recruiters simplify the process of cold emailing due to automation but have many downsides such as, for example, a usually significant price when you need to keep all the candidates in the contacts list for a long time, or all the manual work you have to do to set up the outreach.

There are also popular CRMs like Hubspot or Salesforce that also offer email automation solutions (Salesforce offers it via the CRM and via the marketing automation tool it owns called Pardot) but this is not an option for a recruiter, as those tools are made specifically for sales and marketing teams, and also are extremely expensive.
Outreach extensions for browsers
YAMM or Gmass for Gmail and Outlook, or Yesware extension, and many more make it quite easier for recruiters to automate emails to candidates. For example, YAMM and Gmass allow sending emails in bulk right from Gmail, which is a very time-saving method of email automation.

Also, it is quite handy: you install the extension just once and use it anytime you need it. Still, you'll have to do the manual work of preparing those lists of candidates to email with personalized messages, for example, in a separate spreadsheet if you use GMass. Not that simple and time-saving when you have to complete other routine day-to-day tasks. 
Tools for automated cold outreach
There exist tools that focus on simplifying cold emailing for recruiters. Mailshake, Reply.io, Lemlist, Woodpecker – they all provide a platform where you customize your cold emails, make them more personalized, and then add them to the sending schedule, so they do not suddenly alert the spam filters of email servers (which is more likely when you hit send using browser extension mailing tools we mentioned in the previous paragraph). Meanwhile, built-in instruments of analytics help to estimate the bounce rate, the open rate, and reply rate, which is very important to know when you strive for improving email sequences and getting the best result. And you also usually don't get such info with the extensions, by the way.
Popular ATS
Such well-known recruiting ATS as Lever or Workable have built-in tools for emailing candidates which might be convenient when you have to work within the ATS. Thankfully, many other recruiting tools (including AmazingHiring) have integrations with these ATS to provide additional value and wider candidate emailing  opportunities.
Pros and cons of traditional email marketing and cold outreach tools from the recruiter's point of view
Speaking of traditional email marketing tools and cold outreach instruments we mentioned, you are most likely to know whether they are good enough for emails to reach the candidates or not after you try them. However, let us share our personal pros and cons with you.
Pros of popular email marketing tools for recruiters
The majority of recruiters use the above-mentioned tools for automating emails for candidates when they don't have high volumes of contacts because when you start using them, these tools come quite cheap. Many of them are free at least until some point, and sometimes it's enough for recruiters who use only basic features and don't have a lot of potential hirees to email.
The next big plus of using traditional email marketing tools is that there are lots of free tutorials and how-to's online, where it's shown easily that it's very handy to use this or that instrument for contacting candidates. Proven quality and a long time on the market become another point for choosing tools for email automation. But what about the cons of these tools? Let's see.Cons of popular email marketing tools for recruiters
Traditional email marketing tools or browser extensions are most likely not integrated with your sourcing solution in any way, that's why it will be always taking you a lot of time to do the manual work of transferring data from your source with the contacts and back.

You might also have to get through a lot of trouble when setting up the personalized emails in those tools, not speaking about statistics and A/B testing features that usually help to make the outreach more profitable. Moreover, default email templates in these tools can be not very attractive and as a result, they can reduce conversion levels. That is why you need to pick the best emailing tool for recruiters on the market.
What are the best solutions for recruiters to send emails to candidates in 2021?
So, what are the most efficient solutions for recruiters to reach out to potential candidates? There is a way to keep the sourcing and emailing altogether, without transferring data in and out.

AmazingHiring is a 360-degree solution for any recruiter at any stage of the hiring process. As we mentioned earlier, recently AmazingHiring has added the Messaging solution to the sourcing platform. It includes such features as: 
Sending recruiting emails in mass.

You can set up an email to all candidates in a folder to have the message delivered to all the contacts in the folder at once.

Recruiting email analytics

. You can analyze the results of the mailout to make your campaigns more efficient. Respond quickly to the results of the campaigns and change strategies when it's necessary to get your recruiting email strategy to a brand new level.

Recruiting email sequences.

For successful follow-ups or cold emailing for recruiters, you might need a thoroughly made email sequence, where the time of sending, template, etc. suit perfectly the person who is going to receive the email. Otherwise, it is all not going to work as you expected and all you will have is lost time and resources.

Integration with Outlook 365.

Good news for the recruiters who use Outlook. Connect quickly to your Outlook 365 account with AmazingHiring.

Creation of great-looking emails to candidates using templates.

It is confirmed that human-like emails with personalized messages get a higher response rate than the default ones. In the AmazingHiring Messaging platform (released in 2020), there is even a possibility to share personalized templates with your co-workers, which is very handful for the recruitment agencies or the whole HR department.

Integration with Gmail.

Not only the users of Outlook 365 have an opportunity to test email integration with AmazingHiring. Now, Messaging can be integrated with your Gmail account.



Isn't it cool how one single solution can improve the whole recruiting process? 
What about the other platforms that might help improve your recruiting email performance?
Jobsoid is a recruitment software for job posting and candidate management. However, unlike AmazingHiring, it doesn't exactly let you source candidates from all available public sources and merge profiles into a comprehensive profile for each candidate. Using Jobsoid will require some manual work, and this is what we all want to avoid here. However, if you already use or plan to use it, they've got the email templates for cold emailing for recruiters and other candidate communication solutions. For example, Jobsoid offers to reach out to candidates via SMS, which is quite an old-fashioned but well-known method.
If you are looking for a simple email automation tool built for HR, what might help you is QuickMail. Originally, QuickMail used to be a marketing email automation solution. However, the company lists HRs and recruiters as one of its target audiences and offers a few specific solutions for emailing that could be useful for the recruiters who want to set up the candidate outreach. You may use it if you don't need any sophisticated features like the sourcing platform, sharing templates between co-workers, etc. QuickMail is a credible alternative to any free browser extensions for recruitment as it considers recruiters and HR to be their Target Audience. It is also a quite good and cheap replacement for traditional emailing tools for recruiters such as GetResponse.
Conclusions
When you are choosing the best candidate emailing tool, try to choose the one that will save you from most of the recruiting pain and routine tasks, and manual work. We are recruiters ourselves and we created AmazingHiring as an instrument that can save a lot of your time for more important tasks. Skip the marketing-oriented tools or expensive CRMs, and simply try candidate outreach automation via AmazingHiring's Messaging platform.
>> Try Messaging candidates with AmazingHiring <<
P. S.
Ready to set up candidate outreach? Check our article with suggestions for the best recruiting email subject lines.
Join the AmazingHiring Sourcing Community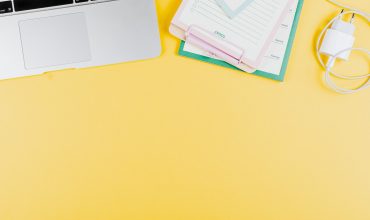 The pandemic brought a lot of challenges to the companies as well as to the HR professionals. Almost every company has faced a huge shortage of staff due to several lockdowns, and now when the situation is getting better, recruiters are responsible for filling  an enormous amount of positions. This is where recruitment marketing automation […]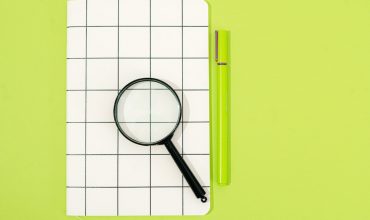 It is no secret that most recruiters source candidates only on LinkedIn. Some of them use Boolean to find professionals who do not update or do not even have their social profiles at all. The next step forward here is to use metasearch engines to cover more sources and, thus, get more results. Metasearch Engines […]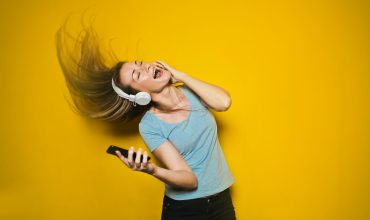 This article is written by our friends EvoTalents. Working in IT recruiting is like riding a tightrope while juggling. Every year, companies raise their bar for employees while the talent market doesn't keep up with their requirements. What's left for recruiters is to find patience and ingenuity to find "those" candidates. Here at EvoTalents, we […]