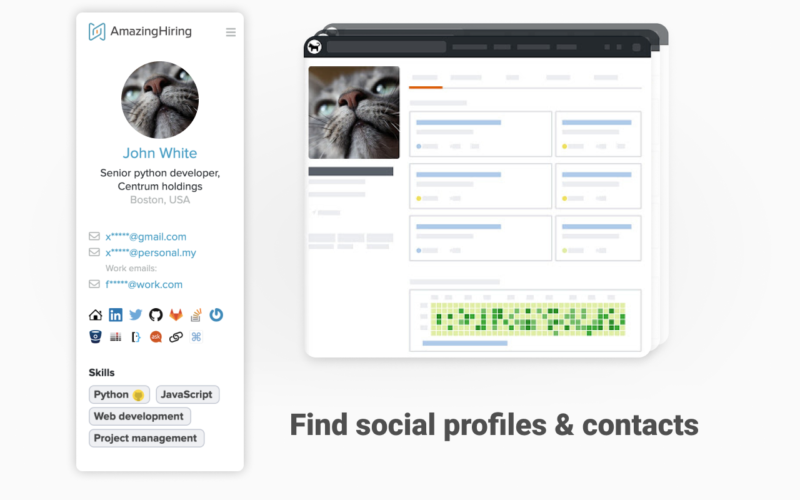 Review the candidate's digital footprint
Get more knowledge about them and their activity in professional communities.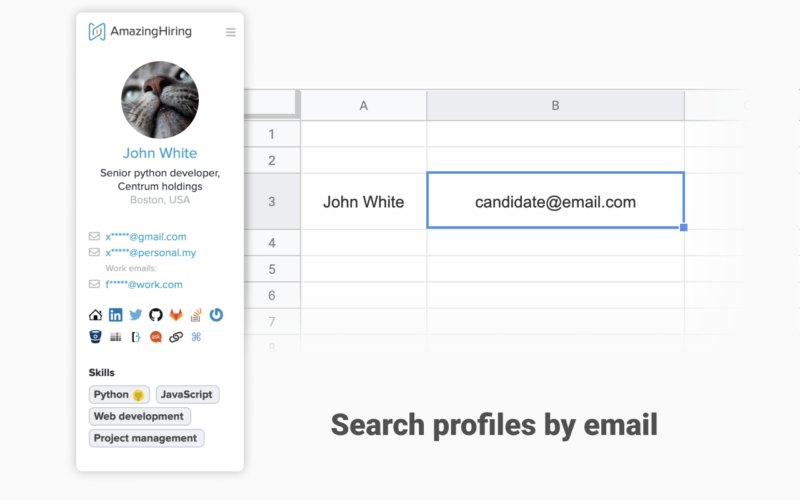 Search social media accounts by the candidate's email
Find the candidate's profiles by hovering over their email on any website, google spreadsheet, CRM system or ATS.
Frequently Asked Questions
What is AmazingHiring Extension?
AmazingHiring Chrome Extension is a professional sourcing tool that finds tech specialists' social media profiles, contacts and information about the professional background . It finds candidates' accounts across 50+ professional and social networks saving your time on screening and contacting candidates.
What specialists does our extension find?
These are front-end, back-end, iOS and Android developers, data scientists, QA engineers, UI/UX designers, DevOps and other tech specialists.
What resources does it index?
GitHub, Stack Overflow, Kaggle, Dribbble, Behance, Google+, Rubygems, Quora, Slideshare, Facebook, Twitter, and more than 40 other professional and social networks.
What is AmazingHiring platform?
AmazingHiring is an AI-based people aggregator to source passive IT candidates across the web. It finds profiles from all major networks like GitHub, StackOverflow, Facebook, Kaggle, Xing, etc. and provides recruiters with candidates' professional background, contacts, social footprint.