Most recruiters see an average candidate response as low as 20%. That's just 2 out of every 10 people you contact, making for extremely unproductive email strategies. Still, cold emailing remains one of the most effective methods of recruiting new candidates, so what can you do to increase that measly response rate?
The first step to getting more candidates to respond to your cold emails is to simply send better emails. Of course, that's easier said than done. If you're at a loss as to what you can do better to attract a potential new employee, check out these examples and advice.
Writing Better Subject Lines
Many people put time into writing a great email body but then skip over the subject line entirely, just putting in whatever comes to mind. This is a crucial mistake because the subject line, while much shorter than everything else, is the one thing that the opportunity hinges on.
If your subject line doesn't entice a great candidate to open your email, you may as well have not sent an email at all. When writing an email to passive candidates, your subject line should: 
   

Flatter the candidate:

Even manipulative flattery has been proven to produce positive results in the marketing industry. No one can resist a compliment, after all. So, even though "impressive resume" and similar phrases are used all the time, they're still effective and affect candidate's experience. They catch the attention of candidates and hook their egos into reading further.

   

Do your research:

Aside from creating a flattering subject line,  you need to personalize it. You need to find a way to cater to your candidate's interests, which will do wonders for engaging them from the very first second they see your email subject in their inbox. Go beyond using their name and other data inserts. You need to get personal with your personalization efforts. Exploring LinkedIn profiles is a great first step.

   

Intrigue them:

There's a reason why the HR industry sees an average email open rate that's seven points higher than the norm. After all, their entire job offer emails are centered around making new roles look appealing for candidates. The trick to intriguing subject lines is making sure they don't give it all away.  
With all of these elements in mind, a good subject line could read: "Ever go fishing in Islamorada?" Even though your email isn't related to fishing, the personalization level of this subject line is going to stand out for a job seeker way more amongst the 88 emails the average person receives in a day. It's intriguing and you'll definitely have their full attention. Explore the list of the best recruiting subject lines. 
#1 Playbook: The Ultimate Guide to Sourcing on Social Media
Subscribe to AmazingHiring's sourcing newsletter and get the #1 Playbook: The Ultimate Guide to Sourcing on Social Media
Unsubscribe at any time
Personalization Ideas
Over 96% of marketing executives agree that personalization helps marketing efforts and increases outreach effectiveness drastically, but obviously, no one can take the time to write a personalized, completely unique email that will be a perfect fit for every candidate they seek out. For that reason, marketers usually use a lot of "plug-in" data that they can easily swap out for each candidate within an email.
 The most common examples include name and city, but most everyone is used to receiving emails with this "personalization" info. It's expected.  To take your emails a step further, try plugging in the day of the week.
"I hope your Wednesday is going great," for example, helps to make your email feel fresh. You should also insert their job title and/or company name and combine it with flattery. For instance: "I know Surf Bali has one of the most impressive teams in the world."  
Additionally, since you've already delved into a candidate's interests and worked them into the subject line, you can also get creative when working some referrals to those interests into the email body, bringing things full-circle. For example including a mention of a startup idea they discussed in social media, or an app name that they've created during their free time: "I enjoyed playing your meteoroid game – let's connect."
 I like writing simple yet direct emails that easy to understand and read. I've included recent recruiting email template examples below.
How do I know the interests of a candidate?
To simplify the search of candidates and their interests, use a professional sourcing tool like AmazingHiring. It automatically searches for the right candidates across 50+ sources (like Linkedin, Github, Stackoverflow, Facebook) and provides sources with direct contacts of the programmers. By finding their profiles on social media, you can learn more about them as persons – what topics they discuss and what additional skills they have.
Moreover, AmazingHiring also covers "passive candidates"– those who don't post resumes on the job boards. Thanks to AmazingHiring, recruiters do not need specific knowledge for tech recruiting – just set the initial parameters to get the best match!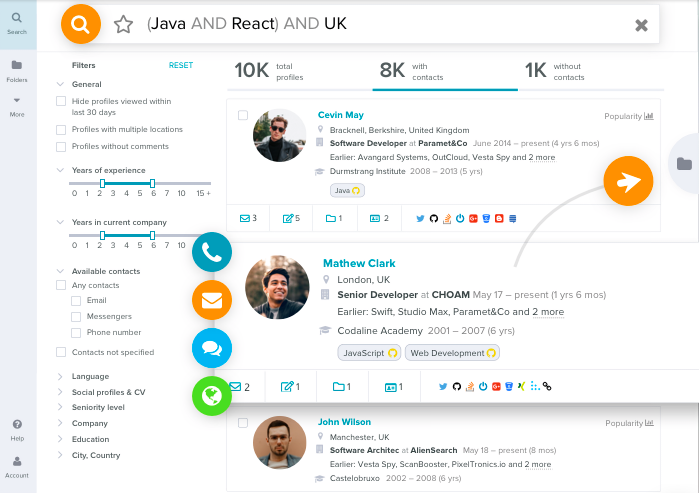 You can start by testing AmazingHiring's free Chrome extension to instantly find profiles of developers you source on other social and professional networks.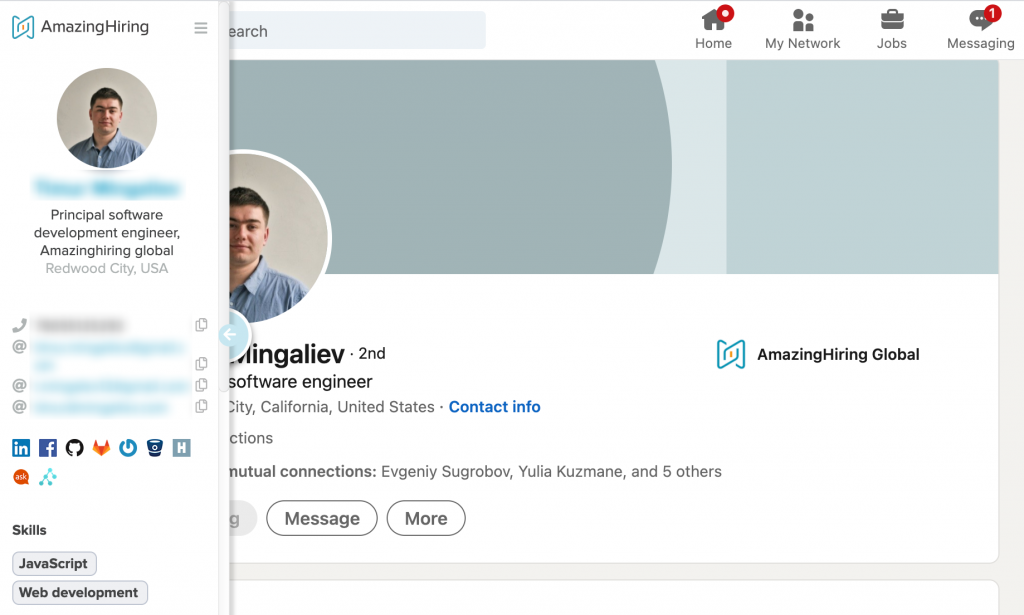 Simple recruiting email templates
Hi <Name>,
I was impressed by your rep score on GitHub and was intrigued to learn more about your experience in <language>. Our team is working on a project within AI automation that would work well with your experience at <company B>.
 I've included the job description here <link>.
 Would you be interested in learning more about this role?
Hi <Name>,
I've got your contact information from <name> with some insights about your astonishing skills in <programming language>. We have an open position for <job title> at <company name> and based on your <LinkedIn profile/CV> it seems like a perfect fit for you.
 I've included the job description here <link>.
 Would you be interested in learning more about this role?
Hi <Name>,
Are you still interested in joining <company name>? 
As you might recollect, <time, e.g. three months ago> we hired somebody else as a <job title>. Yet, we are interested in your skillset and experience in <language/project/…> and kept your CV in sight.
Now we've opened a new position of…
Have Your Hiring  Manager Emailed Them?
Another great trick is to either have the hiring manager send the first message to the passive applicant or to have the hiring manager follow up over email. My response rates have skyrocketed with this technique. It really helps you to stay out and it really gives the impression that your company is really invested in connecting with that candidate.
Read more: 10 Ideas for Recruiters on How to Follow-Up Candidates
---
An update from AmazingHiring:
Want more templates?
Here are some databases with great template collections: 
This one

is smartly categorized for different situations in your talent acquisition process to quickly find the template you are looking for.
Here you may find some additional ideas on timing and email must-haves for any given context.
In this post, there are templates for those, who covered the basics and know asking themselves: How do I write for hard-to-fill roles? How to start relationships and nurture candidates? And more  
And this one is basically your cheat-sheet with great 7 templates for the most common parts of the process. Brief and straight to the point.
And of course, stay tuned on 2021 trends for recruitment emails like:
Automation: It's a common thing now to have a robot communicate with a candidate. At least at the first stages. Whether you are creating an email-AI or crafting a simple bot, remember that the rules and ideas from this post remain relevant for their communication programming. 
Transparency: Candidates don't hesitate to put their experience out there. And they have so many channels and so many ways to be heard nowadays. Warm connections over email may be shared between candidates. And a cold-hearted rejection email can make its way to candidates' feeds.
Email remains relevant: For the next years, the email will remain the main communication channel in sourcing and recruiting. Yet, it is going to change with more automation, dynamic content, and more features. Adapting the fundamentals of human interaction to new tech is key for making the best candidates open your emails.
Use a checklist from AmazingHiring to craft a cold recruitment email
To sum it all up, here is a checklist to refer to, when writing your emails: 
The research is done. You now know enough about the candidate's interests, past projects, and experience to personalize this email
The subject line is written. Is it personalized? Intriguing? Flattering? Would you've opened this email yourself?
There are praise and care in the text. The candidate knows that this is about him, his experience. And that the company is willing enough to connect. 
The context and purpose of this email are clear. So the candidate won't be confused about what is expected from him/her.
A call-to-action (CTA) is added in the end. You finished your email with a specific next step for a candidate to take.
Finding this article insightful?
Top Recruiters create content for AmazingHiring.
Subscribe to receive 1 curated newsletter per month with our latest blog posts.