Searching for Developers on GitHub
We have already written plenty about the fact that if you want to find a strong developer, usual sourcing resources are not very helpful – you'll have to use specialized sites. And now we decided to tell everything there's to know about sourcing in GitHub!
07.03.2018
4954
4 min to read
Let's start with the basics: what is GitHub?
GitHub is the largest web-based hosting service for IT projects with development collaboration features. More than 32 million users log in to GitHub every month. It is the place where developers can store and share their code and also work on open source collaboration projects (e.g. Ruby on Rails). All the software projects on the site use the Git version control software (the system which keeps track of changes in the projects). It allows the developers to record and track the updates of the code, as well as compare it to the source. To put it simply, uploading code to GitHub is actually as easy as uploading photos and other files to Facebook and Instagram.
Recruiting at GitHub: What Can You Learn?
GitHub is awash with excellent talented developers. If you want to source in GitHub efficiently, you have to know where to look for them.
A GitHub developer profile is a goldmine of information.
At first glance, you can learn about the candidate's nickname, their current employer, location and email but if you dig a little deeper…
Github
Websites
This section includes blogs, projects, and other URLs the candidates want to showcase (and it is a great opportunity to find out more about their projects and interests!)
Followers
The number of followers on GitHub is a good indicator of the developer's professional level and their reputation among other open source developers.
FYI: 2-10 followers is good, 11-25 followers is very good, 26-75 followers are excellent, and developers with more than 75 followers are real stars (be aware that it is extremely dicult to attract such people!)
Contribution
In this section, you can see the contribution made by the developer to other projects on the site. Even if you are completely clueless about coding, you still can extract some information from this section. For example: Look for the keywords related to the coding languages the candidate uses in their work (for instance, if they contributed to the Ruby on Rails project, you might see the word "rails").
Repositories
The Repositories section contains public projects which the developer has uploaded to GitHub, as well as the projects which have been copied ("forked"). To gauge the popularity of developer's projects you need to find out how many people starred or "forked" them (a fork or a star is a sign that other developers consider the project valuable).
Fork
A "fork" is a copy of a repository. "Forking" means copying. This technique allows the developer to make changes in the source code and use it in their projects. Open access to ideas and code is the essence of the open source software websites like GitHub (if the code was created for private use, it is not freely available on the website). On a repository page, you can see how many people starred and forked it, as well as evaluate the level of activity on other projects. High activity level indicates that the developer has created (or is currently creating) a popular project.
Github: A Step-by-Step Guide for Searching
1. Create an Account
A GitHub search is restricted for non-registered users, which is why to begin the search, you need to create an account, add some general information, and upload a photo.
2. Run a Search
When running a search on GitHub, you have to take into account 3 basic parameters.
Followers: as previously noted, the number of followers is a good indicator of respect the person earned in the open source community.
Language: which language skills are required from your candidate?
Location: if you aren't looking for remote employees, location is an important search parameter. Here are a few examples of how to combine these conditions in your search:
language: ruby on rails location:Moscow followers:5..10
language: javascript location:Moscow followers:<50
You don't have to search on GitHub directly and may use Google instead.eective Google queries allowing to search for candidates.
Find profiles: site:github.com "public activity" -tab.activity
Find profiles with the specific location: site:github.com "London" "joined on" "public activity" -tab.activity
Find profiles using keywords: site:github.com (ios | Android) "public activity" -tab.activity
Find profiles using keywords, number of followers or stars: site:github.com ("50..250 followers" | "100..500 starred") (javascript) "joined on" -tab.activity
You can add other parameters, such as the date of registration ("joined on [date]"), certain organizations or even organizations with a certain number of employees to specify your request.
3. Filter by Candidates' Profiles
By default, GitHub typically shows repositories (not profiles) in search results. To find candidates who align with your query, you must filter these results by users.
language:ruby on rails location:moscow followers:5..10
GitHub will automatically show the best match for the query, but it also has features to sort the results by parameters "Most stars", "Recently updated" and "Least recently updated".
The main advantage of sourcing in GitHub is that the majority of the candidates enter their personal email addresses in their profiles.
The developers you'd like to reach may get numerous letters from other recruiters – so you'll need a way to stand out from the crowd.
The best approach here is to find out about the candidates as much as possible.
I) Check the Repositories
Have another look at the developers' repositories and see what kind of programs they have there. It doesn't matter if you can't tell the difference between CSS and HTML, you'll still get the necessary data.
II) Track the Activity
Check the activities of the users to gauge what they've been doing lately. Did they log in to GitHub? Did they upload their source code or did they fork someone else's project? Is there any project they spend most of their time on?
III) Cross Reference
GitHub is an excellent starting point to learn about the technical interests of the candidate, but don't forget to cross-reference the data on other websites, such as Twitter, LinkedIn and Facebook, to get the whole picture.
IV) Write a Personal Letter
The last step is easy. Take all the personal information found on GitHub and on social media and compose a letter.
How To Find Github Users Emails with 1 Click
To simplify the contacts search use professional sourcing tool like AmazingHiring. It automatically searches for the right candidates across 50+ sources ( like Linkedin, Github, Stackoverflow, Facebook) and provides recruiters with direct contacts of the tech candidates.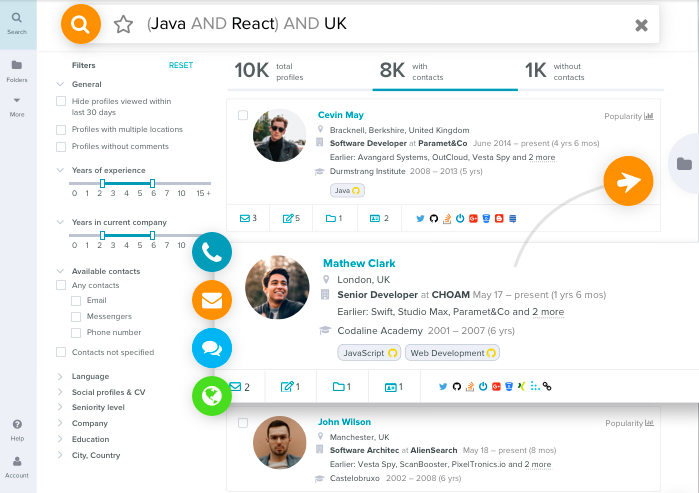 Moreover, it also covers "passive candidates"– those who don't post resumes on the job boards. Thanks to AmazingHiring, recruiters do not need specific knowledge to source technical specialists – just set the initial parameters to get the best match!
Ready to start sourcing IT candidates?
AmazingHiring is an AI-based solution for tech recruiters to source passive IT candidates across the web. It aggregates IT profiles from 50+ networks like GitHub, Stackoverflow, Facebook, Kaggle, etc. using Boolean operators, and provide recruiters with candidates' professional background, contacts, skills. 
AmazingHiring empowers recruiters to double their pipeline and improve their sourcing metrics.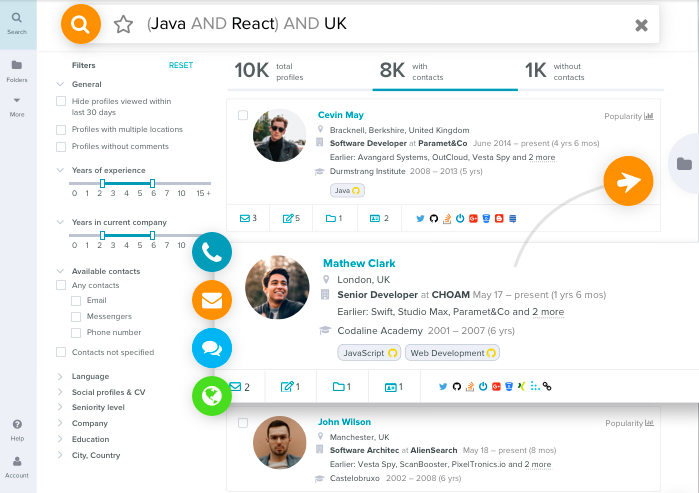 Book free demo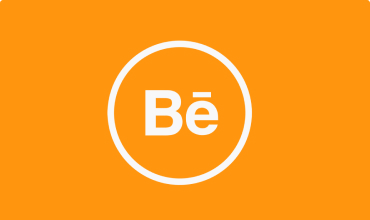 If you want to hire a truly professional designer, it makes no sense to post a vacancy and wait for applications. This is undoubtedly the case when a portfolio outweighs any CV. Therefore, start searching proactively on such websites as Dribbble and Behance. Facebook Twitter LinkedIn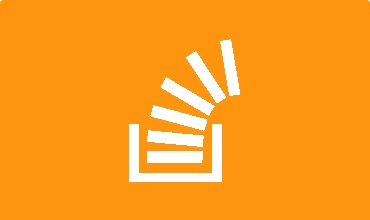 We've already told you how to find awesome developers on GitHub, and in this handbook, we'll give you tips on sourcing best of the best in StackOverflow and Kaggle. Facebook Twitter LinkedIn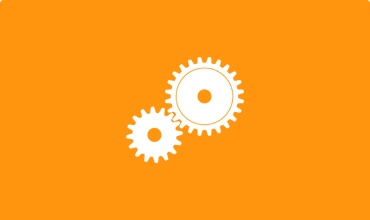 Here is the guidebook by Jiri Herodek how to use Amazon Web Services and its machine learning module for sourcing and which pros and cons it has. Before we dive into the process let us explain a couple of notions you need to be familiar with before implementing the whole process into your sourcing strategy.  […]