How to Source Developers in Slack Messenger
Recently, we spoke about how to recruit a strong specialist after you've searched for them everywhere and with no success. If sourcing in social media and professional networking services has come to naught, it's high time to install Slack – a popular team messaging application.
07.03.2018
561
6 min to read
How Slack Works
Slack is a corporate communication service developed by the team of Stewart Butterfield, the creator of the photo-sharing website Flickr and the browser-based game Glitch. Immediately after the launch of the demo version of the app in 2013, the messenger became a hit in the US and Europe: on the first day of the trial period, 8 thousand companies were registered on Slack.
Slack is a service for communications between employees, however, Slack channels are not meant to be used strictly for business purposes. The messenger also allows users to create so-called "interest channels" and get together to form informal professional communities. Such communities are perfect for sourcing: having scrolled through the messages in the channel, you'll get a good idea of the professional interests of the potential candidates and will be able to evaluate their expertise level.
"My recruiting experience shows that the highest paid employees in the technology industry, including developers, spent very little time on LinkedIn and checking InMails. Obviously, they are swarmed with messages from HR professionals from all over the country," says Angela Bortolussi. "That's why when I first tried Slack, I realized that this is a much more convenient platform for communicating with candidates. It allows you to engage in a more private real-time conversation with people you're interested in."
Tips For Sourcing Developers in Slack
Find professional communities where you may discover suitable candidates
In order to find the right chatrooms, you may use the ready-made list of most popular communities – Slack List (the selection was prepared by Cory Pollock the co-founder of Leet, the gamers' Instagram) or visit Chit Chats – the platform for searching interest-based Slack chats. For instance, Angela Bortolussi, the IT recruiter of Recruiting Social, has been hunting for Python developers via the Chit Chats service and discovered several suitable communities at once.
It is important to understand that a Slack community is not only a place where you can "hunt" for the candidates but also a potential source of information about the interests and needs of the professionals and trends in the industry. Quite often, the participants share opinions about employers in the discussions. A competent recruiter can analyze the reasons for complaints voiced by specialists and formulate the most attractive business proposal.
Get permission to join the community
To join the community of interest, enter your email address, choose a username and request access from the administrator. It is helpful to get acquainted with the community rules and guidelines right at the start.
Study the channels
When you're accepted as a member of the community, carefully study the internal channels. In large communities, there are often separate channels for job search/job proposals. They provide an excellent opportunity to post your job for free or look through CVs which haven't been published outside Slack yet.
Having joined the community, you'll get access not only to the conversations among the participants but also to the full list of community members.
To see this list, click "Team Directory".
You can message the potential candidate directly via Slack or via email. The email address is available in the profile.
Slack Etiquette
Recruiters who use the Slack messaging app for sourcing should abide by the unwritten rules of etiquette in chatrooms. Don't spam by posting impersonal job offers several times a day – such users will be quickly kicked out from the group. Angela Bortolussi recommends that you introduce yourself and provide general information about the hiring company before posting a proposal.
Why Sourcing in Slack is Efficient
According to the recruiting professionals, sourcing in Slack can be as eclient as sourcing in forums and in professional communities. This service allows people to form interest-based groups and collectively discuss current industry news while preserving the opportunity to address each of the participants directly.
Having estimated the expertise level of the potential candidate and having tracked their interests, the recruiter will be able to formulate the most attractive business proposal for a particular professional. 
Ready to start sourcing IT candidates?
AmazingHiring is an AI-based solution for tech recruiters to source passive IT candidates across the web. It aggregates IT profiles from 50+ networks like GitHub, Stackoverflow, Facebook, Kaggle, etc. using Boolean operators, and provide recruiters with candidates' professional background, contacts, skills. 
AmazingHiring empowers recruiters to double their pipeline and improve their sourcing metrics.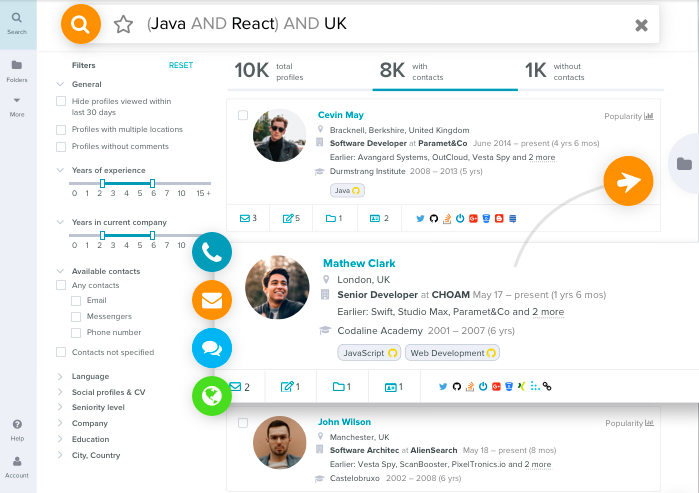 Book free demo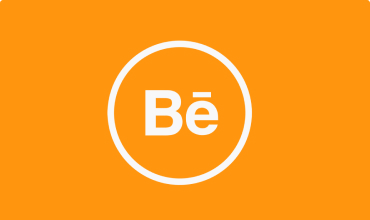 If you want to hire a truly professional designer, it makes no sense to post a vacancy and wait for applications. This is undoubtedly the case when a portfolio outweighs any CV. Therefore, start searching proactively on such websites as Dribbble and Behance.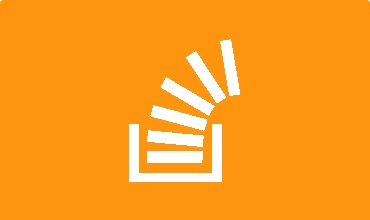 We've already told you how to find awesome developers on GitHub, and in this handbook, we'll give you tips on sourcing best of the best in StackOverflow and Kaggle.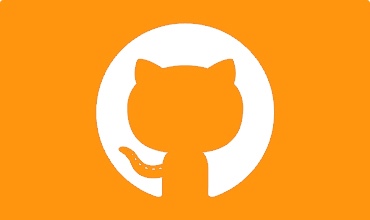 We have already written plenty about the fact that if you want to find a strong developer, usual sourcing resources are not very helpful – you'll have to use specialized sites. And now we decided to tell everything there's to know about sourcing in GitHub!