Sourcing Function: Trying to Resolve the In-House VS. an Agency Argument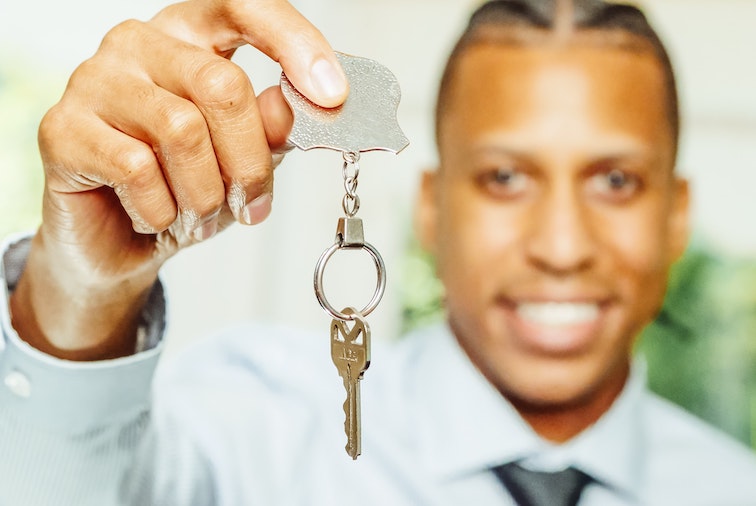 This is Part 2 of the Amazing Hiring's "Guide for Building and Scaling Sourcing in Fast-Paced Organizations".
Here, we take a deep dive into aspects of building a sourcing function in your company and persuading your stakeholders to make solid strategic decisions and efficiently allocate budgets.
You may find the full list of topics we cover here soon.
In this article, we provide a few insights from sourcing and hiring practitioners who will try to answer the good old question "Do I need to hire a sourcing team to do this in-house, or is it an agency's job?" 
First, we'll go over the pros and cons in detail. They are based on what the previous experience with various organizations tells us and our experts. At the end there is a handy comprehensive chart summing up all the ideas, scroll down if you want to cut straight to the main points.
Yet, remember that there is no one-fits-all solution here. Let us explain why. 
Agencies and RPO
The basic idea around sourcing in recruitment is that sourcers convert people into candidates and recruiters convert candidates into employees. Sometimes a good job ad could bring you a ton of quality candidates, while in other cases the pipeline may remain cold and empty. 
We've already covered the signs showing that you might need a sourcing function here.
There are a lot of processes to fine-tune and control while trying to fill a position. From engaging with candidates who are already in your applicant tracking system (ATS) to nurturing the passive ones for whom there is no fitting role at the moment. 
There are two main approaches for working with external contractors on these tasks: 
First, is the standard agency approach.
Here professional recruiters have several customers and numerous positions to fill for those customers. They receive data inputs from your company like candidate requirements and search for talent to pass you the CVs after a brief initial contact. 
They have their sources, connections, and partnerships which is obviously a great advantage. Yet, usually, they are not sourcing or working with passive candidates. Agencies work with their own ATS and previous applicants they had in the past. 
The upside here is that such agencies can help you scale faster and are great at fulfilling junior-to-middle positions. On the other hand, with agencies, it is hard to capitalize on all your investments in the employer brand. More often than not they don't even mention the company's name while engaging with potential candidates. Secondly, agencies are not invested in exploring all ins and outs of your goals and business requirements. Your task is just one of many in the pipeline for each agency's employee. 
Lastly, and most importantly, data is the key. Leaving that data and the knowledge about the market to external partners is a short-term tactic that can not win strategically in the long run.
Second, is the Recruitment Process Outsource (RPO) approach. 
Here the level of engagement and commitment varies. Such contractors tend to offer themselves as long-term partners with a tailored and more hands-on approach. 
RPO partners are devoted to sourcing and recruiting for a specific company. They keep working on fulfilling the specific position despite probable difficulties. Such contractors are usually more efficiency-oriented and tend to formulate quantifiable metrics from the start in the SLA. 
This is a good choice when your recruitment team has neither enough of the right candidates nor the resources and time to source them. Here you can split the workload by having an RPO partner work with passive candidates while assigning your internal department to concentrate on the active ones. 
The downsides are pretty similar to the previous approach with all the information left unknown. Such as who has been contacted by them, how they have been contacted, etc.
It is basically a black box. 
Internal sourcing team.
As we've established in the previous part of our guide, there is a lot to consider before deciding to develop the sourcing team in-house. In the meantime, the advantages of such a decision over outsourcing this work may be another immense argument to support the idea. 
Here are the main perks of an in-house sourcing team: 
Immersion into the industry
The agency recruiter will have a lot of customers across industries, including your competitors. And while his/her sales-minded attitude is a nice way to get the right candidates on board in a short time, you might miss out on a lot of opportunities due to the specifics and volumes of an agency's work. 
In-house sourcing experts are concentrated on your business and are deeply submerged into the industry and the context of the provided requirements. 
Candidates retention
The in-house sourcing team is better at communication and empathy-building. They have a profound understanding of the skills and qualities needed from a candidate to show strong performance and to be more successful in the role. 
This creates additional filters for screening and provides additional means to discover "hidden gems". As such are candidates with diverse experience and skill sets now working in positions that may not seem relevant at first sight. 
Hence, the overall retention metric benefits from these aspects. 
Values transmission
Your company probably invests a lot of money in the employer brand. Always seeking creative ways to explain how great/different they are, what an employer of choice they are. This value proposition might get lost within the processes of an agency. 
The in-house team is constantly transmitting the values of your company overall and the employer brand in particular on all stages of talent sourcing and engagement. It makes a great tandem with internal recruiters who complement this by embedding the same values in the hiring and adaptation phases. 
Full control
This comes back to the point already mentioned a few times in this article. Data. The in-house recruiting team develops and supports relationships with candidates and builds a handy database for future acquisitions. 
Internal sourcer controls what has been already done, who has been contacted, and how. He can keep nurturing passive candidates in the pipeline, offering them the right opportunity at the right time.
Your internal team also doesn't have any contractual obligations to other companies competing for the same talent. They can engage with any candidate that could be a great match. Agencies have stop-lists of candidates that have been hired by them to other clients.
Finding this article insightful?
Top Recruiters create content for AmazingHiring.
Subscribe to receive 1 curated newsletter per month with our latest blog posts.
What about the cons?
The downsides of developing an in-house sourcing function are pretty straightforward. 
Firstly, Having an internal team requires a longer-term vision and strategy than for an agency or RPO. Sourcing experts become the employees of your organization, so you need to make sure there will be a career path for them at some point in the future.
Other major thinking points are ROI and economics. As with any other hirings, there is time spent on sourcing and recruiting new members of your internal sourcing team. There are infrastructure costs to provide them with space and tools. And, of course, the payroll.
There are specific cases when leaving the sourcing to external contractors is more than ok. Especially if your investments and ambitions about the new team do not correlate with the capacity and scale of your hiring strategy.
Comprehensive chart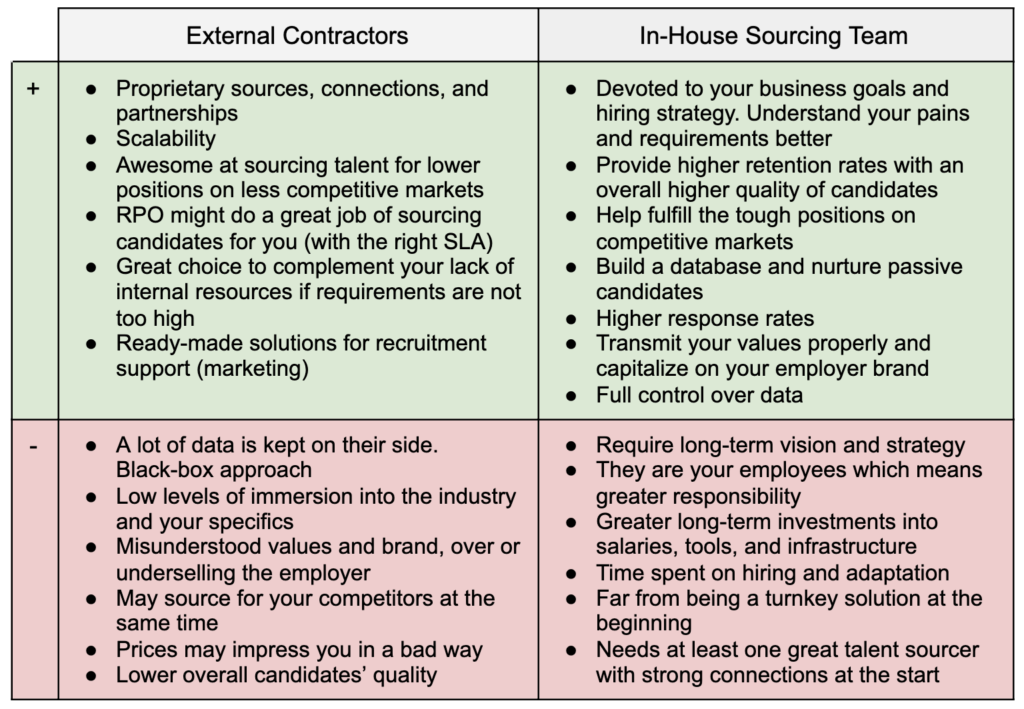 Conclusions
As we said in the beginning there is no one size fits all solution. 
The choice between outsourcing or building an internal team requires a deep dive into your specifics and should be purely data-driven. 
Analyze sources you already use for hiring.  Evaluate the availability and accessibility of the talent out there in your specific market for your open positions and certain requirements. Figure out the current workload and measurable KPIs of the current team. And there is so much more to it. 
So it is a challenge that calls for deep and profound analysis. Hope that our guide will become a great starting point in this journey. 
While you are considering the next steps, your existing team may already gain access to 50+ sources and hundreds of millions of potential candidates' profiles with the AmazingHiring platform. 
It's a great start in itself. 
Also, great thanks to amazing sourcing and recruitment practitioners Mikael Korpi and Guillaume Alexandre who immensely helped us with practical advice in the preparation of this article. 
Happy hiring!
Title photo by Kindel Media from Pexels
80% of Tech candidates are passive.
Level up your outbound
sourcing strategy.
#1 Playbook: The Ultimate Guide to Sourcing on Social Media
Subscribe to AmazingHiring's sourcing newsletter and get the #1 Playbook: The Ultimate Guide to Sourcing on Social Media
Unsubscribe at any time
This is Part 1 of the Amazing Hiring's "Guide for Building and Scaling Sourcing in Fast-Paced Organizations". Here, we take a deep dive into aspects of building a sourcing function in your company and persuading your stakeholders to make solid strategic decisions and efficiently allocate budgets. You may find the full list of topics we […]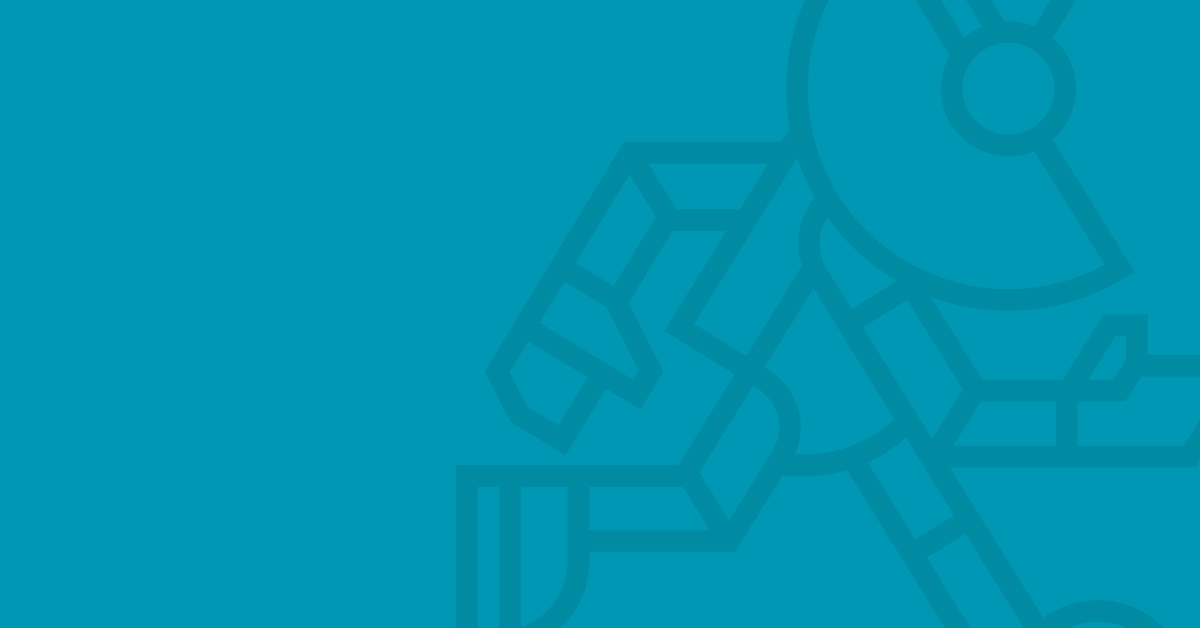 In this playbook, we speak about sourcing techniques and hacks for different social networks where you can find developers, software engineers, UX designers, DevOps, etc. Our experts share their step-by-step guide on how to build boolean searches and how to filter candidates. The playbook will be useful to recruiters who: want to make the most […]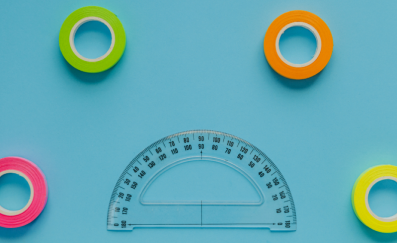 Disclaimer: The article is created based on materials provided by Yves Greijn, Lead Engineering Sourcer (ex-QuantumBlack, now Miro), Neha Naik, CEO of recruitgyan.com, and Monika Nemcova (AIHR, ex-Content Marketer from harver.com) How do you measure your recruiting success? We have prepared an ultimate list of recruiting & sourcing metrics to be checked regularly. All metrics formulas can […]

-->