Top Highlights from SourceCon in Amsterdam 2019 | Part 1
May 2019 sourcing and recruiting professionals from all over the world gathered at SourceCon Europe to discuss sourcing strategies and tactics, learn and network.  The AmazingHiring team is happy to share with you the most interesting highlights from the speaker keynotes and presentations. 
28.05.2019
1,093
15 min to read
Glen Cathey – Storytelling is the Key to Effective Referral Sourcing
Employee referrals remain the top source for hires.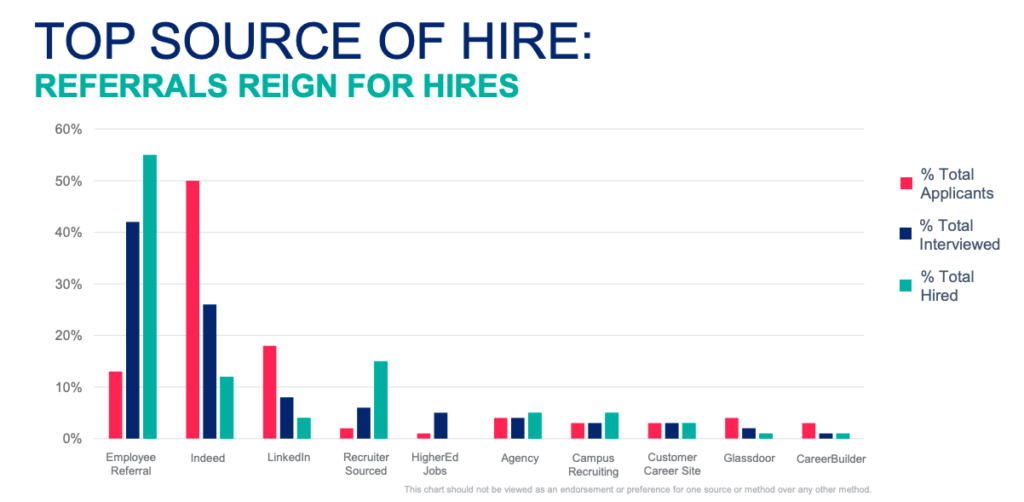 Storytelling Is the Greatest Technology That Humans Have Ever Created
Why don't people give you referrals when you ask? They have no trust, moreover, they don't understand why. The story can help you break the ice and give people memorable ground why and how would they recommend you or your company to colleagues or friends.
Tell stories because they stick, stir emotions, and drive decisions—that's why they can be a companies' most effective recruiting tool. People only tend to remember about 5% of facts after 10 minutes, yet they remember 65% of stories narratives are 22x more memorable than facts that's because stories make us feel things.
Knowledge is what prepares a person for action, logic convinces him the action is good to take, but the emotion is what makes the action happen. If you are emotional about your "cause" the target will feel that emotion. Facts Tell, but Stories Sell!
Social Proof Helps Selling
The psychological phenomenon where people assume the actions of others in an attempt to reflect correct behavior for a given situation. Stating or even implying that others have taken a particular action can increase your chances of success.
Some examples on how to use social proof in your referral sourcing:
I've had some excellent referrals from people working at _______ and _______ (companies)

People who have been recently interviewed have said ….

We've recently hired folks from ____ and they've said ______.
Top-5 Rules to Be Successful in Referral Sourcing Using Storytelling
Create a story. A good story can convert passive and even non-job seekers.
Make sure you sell before you ask. Tell stories based on your experience or the experience of your team, hiring manager working in the company, or about work/project, recent interviewees, recent hires, employees, etc.
Don't Ask for Referrals in Your Initial Emails. Entelo analyzed millions of emails and found that asking "if you know anyone else" can decrease reply rates by 48%
The first contact is and should always be 100% genuinely about them, not about yourself or your company/ job opening.  
Use not only written mediums to communicate but also videos or live conversations. Video viewers retain 95% of a message when they watch it in a video compared to 10% when reading it in text.

---

Tris Revill – The Mechanics of Storytelling in Sourcing
Sourcing is targeted storytelling. Storytelling helps you to go through the hiring journey and convert a candidate from being not interested and involved at all to the high intent of being hired by you. Getting a job is an emotional experience for any person. Storytelling in sourcing is all about creating an emotional interaction with candidates.
Look at these emails any candidates get a lot to their mailboxes. They are totally impersonal and not targeted:
"Hello,
I have a job for you.
Please send me your CV." 
OR
"Hello,
Looks like you have interesting skills.
You might be interested in my offer.
Open to discussing?"
Let us go through some storytelling tricks that help you create targeted emails and improve candidates' reaction to them:
Don't sell jobs, sell opportunities. This little change in words makes a big difference.

Native language works the best.

Simplify the language that you use when talking to the candidates.

Try to avoid using words that people might not understand.

Speak about them, not yourself: "You gonna have this", "You gonna do this", "You are invited by our company".

Don't overwrite about your company or job position. You have to engage a candidate first and catch the candidate's attention.

Be prepared for the conversation with a candidate, polish your profile in social media and give people a reason to talk to you:

Post relevant content in your social media

Write simple blogs

Showcase your workplace
Put a pixel to your emails so you can follow-up candidates in social media providing them with content around your story.
---

Dorothéa Bozicolona-Volpe – Building a Personal Brand that Attracts Talents

Most of you have a personal brand. It's not a vision but all the stuff you put on the Internet. Whatever we do, we leave a footprint. People need to know, like and trust you. Everything we do online and offline brands us. People expect us to behave offline the same way we do it online.
Each of you has something that stands you out of the crowd. Personality, sense of humor, efficiency. Branding brings your audience much closer to you and shows them who you are and what you are about…
Ready to start sourcing IT candidates?
AmazingHiring is an AI-based aggregator to source passive IT candidates across the web. It finds people profiles from 50+ networks like GitHub, StackOverflow, Facebook, Kaggle, etc. and provides recruiters with candidates' professional background, contacts, social footprint.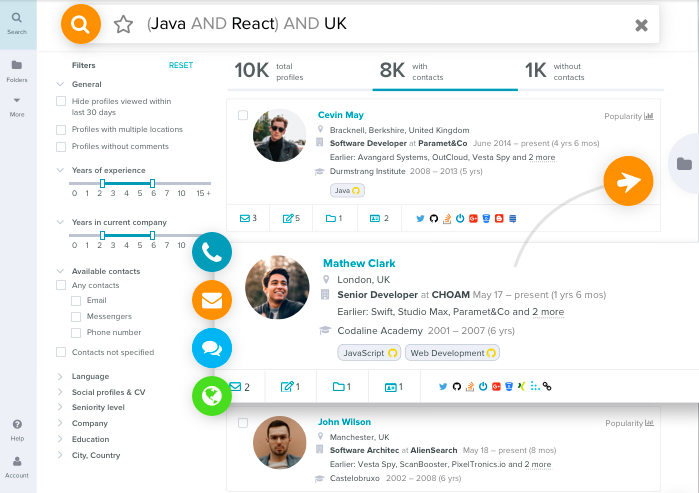 Book free demo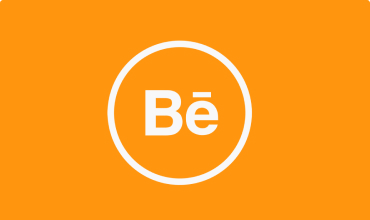 If you want to hire a truly professional designer, it makes no sense to post a vacancy and wait for applications. This is undoubtedly the case when a portfolio outweighs any CV. Therefore, start searching proactively on such websites as Dribbble and Behance.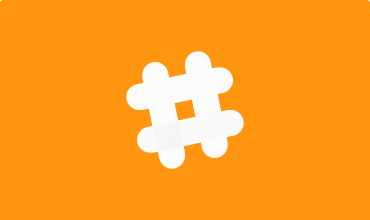 Recently, we spoke about how to recruit a strong specialist after you've searched for them everywhere and with no success. If sourcing in social media and professional networking services has come to naught, it's high time to install Slack – a popular team messaging application.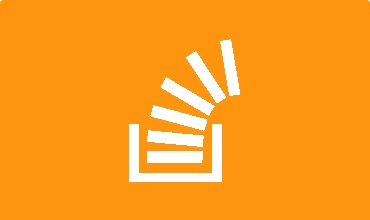 We've already told you how to find awesome developers on GitHub, and in this handbook, we'll give you tips on sourcing best of the best in StackOverflow and Kaggle.