Great sourcing experts are like great marketers — they follow where potential candidates' attention goes. Of course, more traditional platforms and social media like Facebook, or LinkedIn, or GitHub are not going anywhere. Yet, new emerging online gathering places for tech talent are noteworthy for sourcing practitioners out there.
Over the last years, Telegram has been in the news a lot. Users are praising it for functionality complimented by alleged privacy and security. On the other hand, governments of Hong Kong, Iran, and Russia were trying to ban it legislatively. 
At first, it started as a messenger with a sense of freedom for rebellious minds. But later (thanks to the introduction of channels and groups) Telegram gradually transformed into a day-to-day tool for millions. People spend time there consuming news and entertainment, while teams and businesses communicate their tasks.
If you are looking for outstanding tech talent you should not skip on Telegram. In this post, we explain why.

3 reasons to create a recruiter's profile on Telegram right now
1. Impressive number of users across devices and OS
In January we saw a huge user "migration" after WhatsApp changed its Privacy Policy. App's founder Pavel Durov stated that it surpassed 500 million MAU (monthly active users). Later that month Telegram became the world's most downloaded non-gaming app. And those numbers keep growing.
2. Growth potential and diversity across cultures and continents
Telegram is immensely popular in regions, where it might be tough to discover potential candidates via traditional tools like Facebook or LinkedIn. 
Take the Russian market as an example with at least 90 million people online. LinkedIn is blocked by the government, Facebook hardly makes it into the top-5 most popular online resources, while Telegram is used by 30 million users daily. You may also find a lot of people using it in the Middle East, India, Southeast Asia. Finally, Telegram already started to gain traction in Europe and North America (3% of all messengers' users in the US, 7.8 million DAU in Germany, etc.) 
3. New features and consistent development
Telegram becomes more and more attractive to average users and businesses alike by quickly developing and releasing new functionality. This means new tools for sourcing potential candidates and growing interest from wider audiences. 
For example, lately, Telegram rolled out the "audio chats" feature for its channels. It gained the title of the "Clubhouse killer" in media and from influencers alike because of similarities in mechanics with the buzzing new social network. 
In March, Pavel Durov announced that Telegram has raised over 1 billion dollars by selling bonds. All those investments are going to support its steady growth, development, and user acquisition. 
#1 Playbook: The Ultimate Guide to Sourcing on Social Media
Subscribe to AmazingHiring's sourcing newsletter and get the #1 Playbook: The Ultimate Guide to Sourcing on Social Media
Unsubscribe at any time
Sourcing checklist for Telegram
Telegram is officially a messaging app. But it defined the boundaries of its class long ago. Here is a checklist based on the app's features for sourcing professionals to answer the questions like "Where to look for potential candidates?" and "How to source on Telegram?". We explain each part in detail below. 
Public and private channels/groups

Public and closed group chats 

Comments section

User profile

Search engines

External sources
Telegram Channels
Big brands, media outlets, and single enthusiasts or experts create channels to publish their own content out there, usually gathering communities of people interested in specific topics.
You may use a built-in search feature to look for such channels: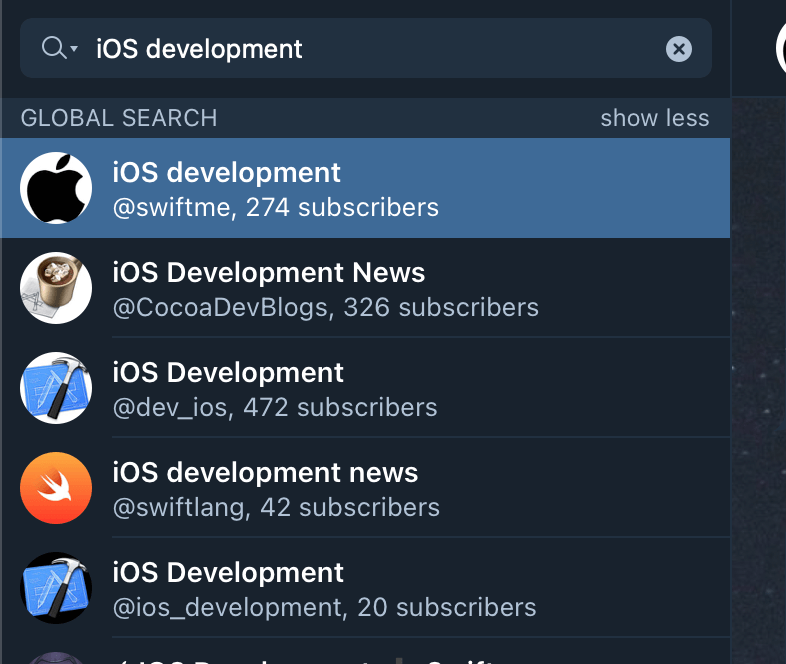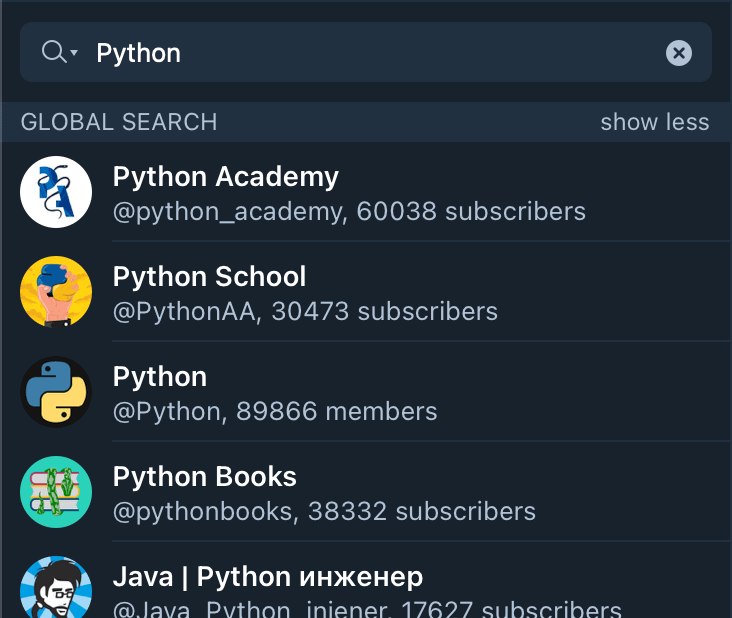 Or external aggregators and catalogs like Telemetr (unfortunately, it only offers a Russian interface but you may use Google Translate feature built-into your Chrome browser), Lyzem, Telegram Group, and others.  
Telegram channels usually contain the administrator's contact info in the bio and are open to proposals for new content or other forms of cooperation. You may publish your job offerings there or even start your own sourcing channel in a few clicks and promote it in other groups.
Public and invitation-only chats
These are usually connected to somebody's channels. Some chats can be found by using built-in search tools or external resources, others are closed.
In chats, people exchange opinions and expertise, make deals, argue, and share their content. Being an active member of one of the popular chats is a great opportunity for direct engagement with tech talent. 

Comments section
This tool is enabled on most of the channels, providing community members an opportunity to leave their opinions on specific posts.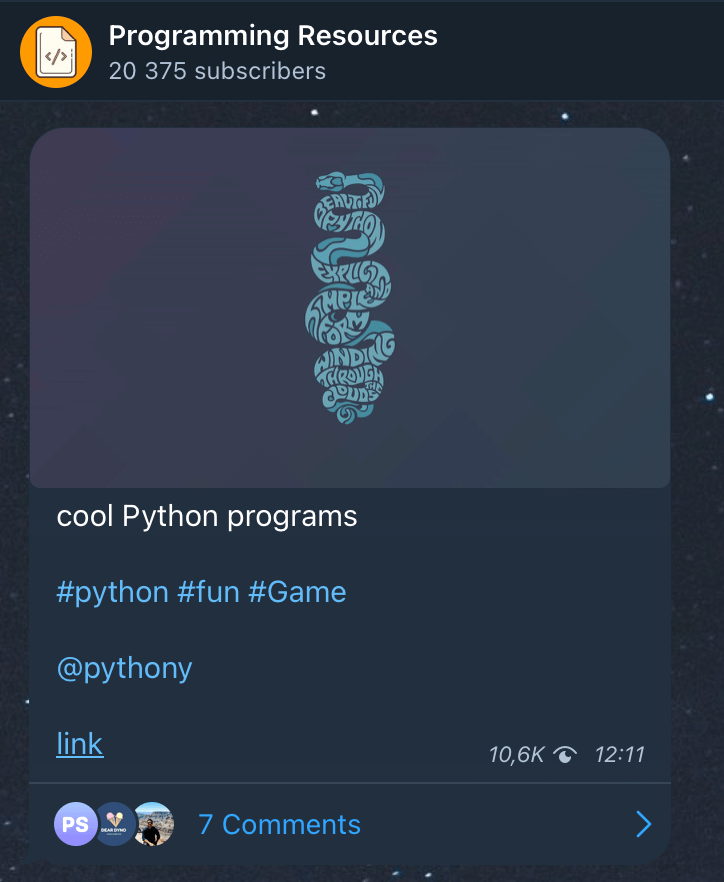 You may engage in conversations or study participants' bio to establish further contact.

User profiles
This one is the hardest part search-wise. Many telegram users leave their current job position or skill set in the bio, yet the in-app search options are blind to it at the moment.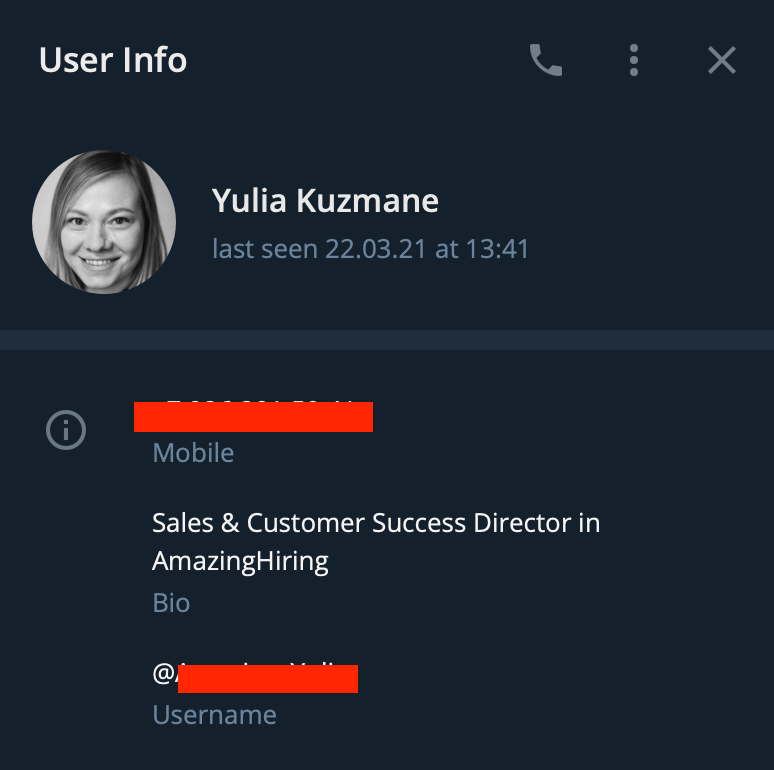 As a hint, you may search for known candidates' nicknames or part of his/her email to discover a Telegram account. External resources may also provide a workaround. Try Namechk to find profiles on Telegram or other platforms.


Also, AmazingHiring has recently added Telegram to the list of its sources. Now you can see if the candidate has a Telegram account when you use the Chrome plugin, or when you use the AmazingHiring platform for sourcing.
If you have never tried AmazingHiring yet, book a demo to get introduced to the platform and start using a free 1-month trial.

X-ray searches
When you understand how URLs leading to specific channels and chats work, it's easy to use boolean strings and operators to gather additional data from search engines. You may try searching:
inurl:t.me java+"developer"
inurl:t.me ios+swift
External sources
People tend to mention and promote their Telegram channels online and among their communities of friends and colleagues. You may ask around, post a question on Quora, search for great "Telegram groups compilations" in other mediums. It is a big field for exploration.

Pros and cons of Telegram sourcing (+ useful tips)
Pros
Discovering hidden gems
There are still talented potential candidates who do not use or even do not have a profile on other popular social media, even LinkedIn.
Plus, in some regions, especially in Eastern Europe,  Telegram is a great platform to discover tech talent you might not find the other way.
Quick, reliable, and direct communications
Great candidates might skip your email or avoid social media for weeks. Specifics of Telegram communication imply more open and informal engagements. 
Moreover, compared to email, messaging apps like Telegram have a much greater number of daily sessions and therefore higher open and response rates for your messages.
Outreach personalization opportunity
Telegram has publicly available bios for profiles, and shows which channels or chats you and a candidate have in common. Also, you may see the content they put out in public chats or even on their personal channel.

This helps to discover additional information on candidates and allows to craft a personalized communication strategy.
Cons
Lack of automation
Usually, there are a lot of handy automation tools for effective communication via email. But no features similar to scheduled follow-ups or templates exist in Telegram.
Tip #1: In Telegram, there is a single automation option — scheduling a delayed message by tapping and holding the "send" button. But be careful not to forget to delete your scheduled follow-up message in case a candidate replies.
Tip #2 (advanced): Telegram makes it easy to create your own chatbots based on its platform. You may use this tool to automate scoring tests, scheduling calls, and much more. Here are the in-depth instructions.
Chat management
Messenger's original functionality of Telegram implies interface and design specifics where it is hard to handle hundreds of chats and channels. You will most definitely need external tools to set up reminders for answering specific people or keeping track of your participation in other activities.
Tip #1: Luckily, Telegram rolled out "chat folders" functionality last year. Here is an explanation of how it works. This might help a little in sorting all your channels and chats inside the app.
External CRM/ATS integrations
Some of the tech giants slowly started integrating Telegram with their systems but it is still a complicated process. You might have to add communication notes and copy-paste messages manually. No easy workaround for that at the moment.
The final list of tips and tricks for Telegram sourcing
Telegram communication tips:
Remember about ethics and common sense.

Mind time zones and working hours. Craft your direct messages carefully because you are intruding into the candidate's private space. 

Be brief and reasonable.

Remember that this is a messaging app where short and straight-to-the-point ideas are in favor.

Plan your follow-up. Remember that every user has tens if not hundreds of active chats and subscriptions to a lot of channels. If your message went unnoticed, it might have drowned under tons of other notifications.
Personalize your communication.

As with emails, personalization and praise are essential for getting a potential candidate's attention and sparking interest.

Mind the rules. Before writing anything into a group chat, look at pinned messages or chat's bio. There might be some restrictions, e.g. "ban for external links" or "no more than 1 message in 5 minutes".
Tips on creating an attractive recruiter's profile on Telegram:
Create a separate account for your professional tasks.

This is the case of chat management downsides we discussed earlier.

Use an appropriate friendly photo, preferably with yourself on it.

It's an essential part of the first impression you make. Also, candidates see your photo at all times while communicating with you.

Make your bio clear and comprehensible.

The best case is when your position, company, and intentions are clear at the first sight.

Update content for context.

Change your bio and/or photo to represent certain situations, e.g. when you are unavailable at the moment.
Finding this article insightful?
Top Recruiters create content for AmazingHiring.
Subscribe to receive 1 curated newsletter per month with our latest blog posts.
Conclusions
Telegram is a huge platform with a variety of tools to experiment, enormous amounts of user-generated content, and millions of talented people from all around the globe.
Keep in mind how the platform functions when building your candidate outreach there.
Another great way to improve your sourcing is the AmazingHiring platform. With instant access to 600,000,000 profiles parsed from 50 different sources, AmazingHiring automates your routine sourcing processes, with the AI-powered algorithm selecting out the most suitable profiles for your job requirements. 
Happy hiring!
80% of Tech candidates are passive.
Level up your outbound
sourcing strategy.
#1 Playbook: The Ultimate Guide to Sourcing on Social Media
Subscribe to AmazingHiring's sourcing newsletter and get the #1 Playbook: The Ultimate Guide to Sourcing on Social Media
Unsubscribe at any time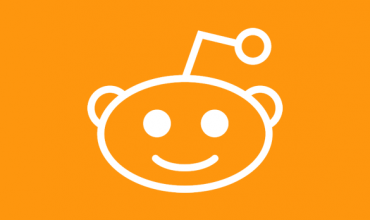 Credentials: Hung Lee and Erin Mathew, a Reddit sourcing expert, had a podcast episode where they've discussed the ways of sourcing candidates on Reddit, the largest forum with 330 million users engaged there. We have summarized key ideas and hints on how to source on Reddit + added practical info and boolean strings for you […]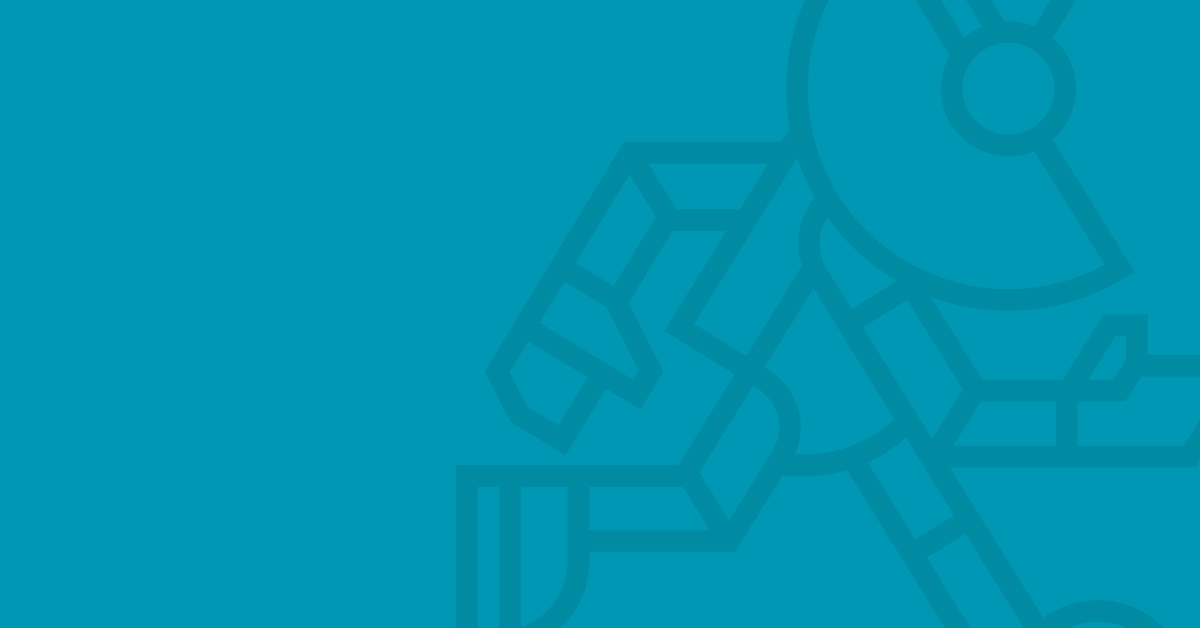 In this playbook, we speak about sourcing techniques and hacks for different social networks where you can find developers, software engineers, UX designers, DevOps, etc. Our experts share their step-by-step guide on how to build boolean searches and how to filter candidates. The playbook will be useful to recruiters who: want to make the most […]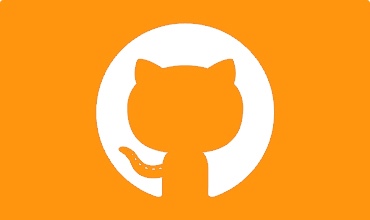 We have already written plenty about the fact that if you want to find a strong developer, usual sourcing resources are not very helpful: top developers do not search actively for new jobs and do not use regular job boards or LinkedIn. You will have to use specialized sites to find top tech talent. So […]

-->