Find Candidates' Profiles from an Email on Any Website or SaaS Platform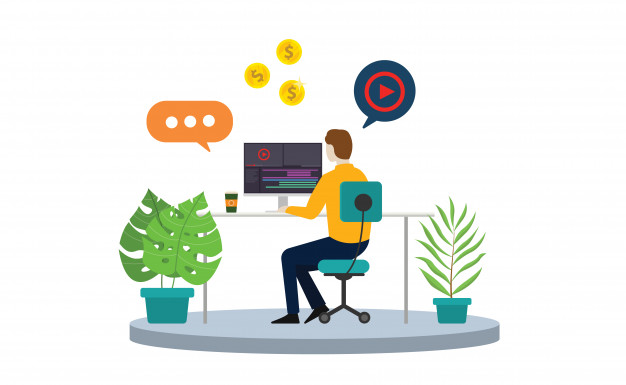 Hi AmazingHiring folks,
We are happy to release the update of AmazingHiring Chrome extension: from now on you can turn a candidate's email address into social media/ professional network profile.
AmazingHiring provides information from over 50 networks, so you can easily get an instant overview of the candidate's social footprint and professional background using only their email.
More details on the new feature are below: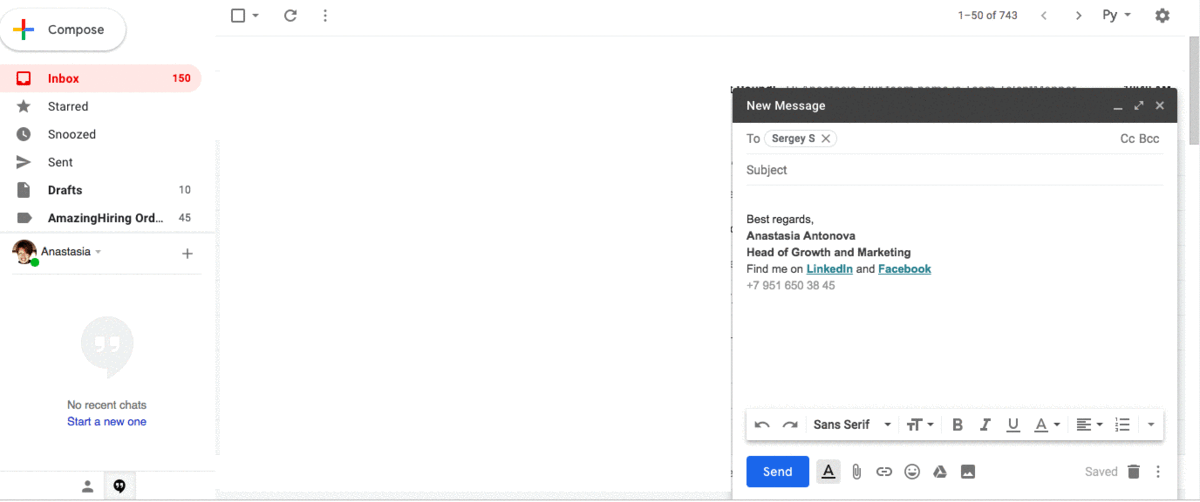 Install AmazingHiring Chrome Extension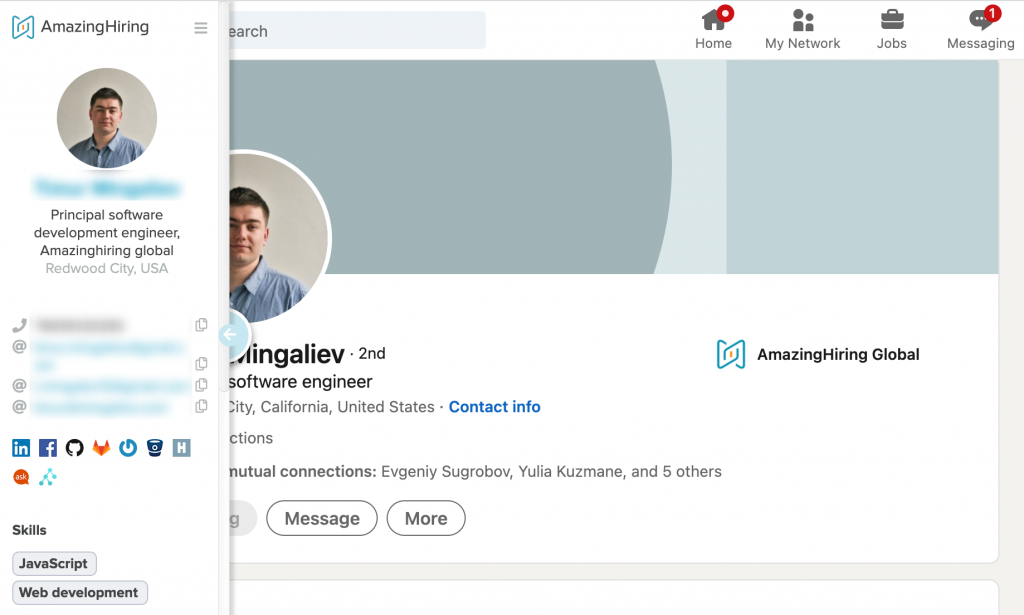 Integration with Any ATS
Whether your recruiting team uses Lever, SmartRecruiters, Greenhouse, Recruitee, custom ATS or simply Google Spreadsheets, you can extract candidate's data from the email address.
Right-click on the email > click "Search by email in AH" > AmazingHiring plugin will open the candidate's profile as the pop-up on the browser sidebar.
Data Enrichment from an Email Address
Search candidate's professional background right from your inbox
Learn everything about your prospects including a photo, location, position, social profiles, having just their email address
Reveal more about your contacts
Build more a more detailed picture of a candidate by linking and matching the contact's social profiles.
Update prospects' data in your ATS
Keep your ATS database up-to-date with the opportunity to track all the latest changes in a candidate's background.


You can also add notes about the contacts right in the extension to record your thoughts and comments about the prospect and keep tabs on important profile updates.
Please consider that the feature will be turned on automatically for all AmazingHiring users, but it is unavailable for the free extension-only accounts.
Stay tuned for more news from AmazingHiring, we are cooking some great updates for you!  
Finding this article insightful? Top Recruiters create content for AmazingHiring. Subscribe to receive 1 curated newsletter per month with our latest blog posts.
80% of Tech candidates are passive.
Level up your outbound
sourcing strategy.
Ready to start sourcing IT candidates?
AmazingHiring is an AI-based aggregator to source passive IT candidates across the web. It finds people profiles from 50+ networks like GitHub, StackOverflow, Facebook, Kaggle, etc. and provides recruiters with candidates' professional background, contacts, social footprint.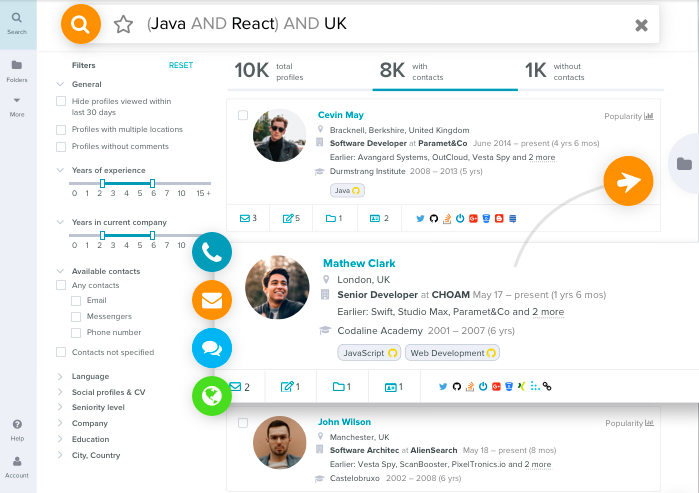 Book free demo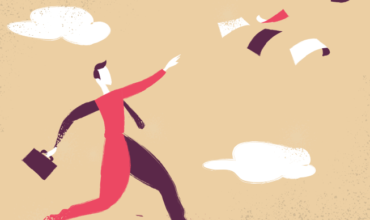 It's quite obvious that following-up your candidates is a must-have for every competent recruiter. Not only after the interview is finished, but on each stage of the recruitment process. The most intriguing thing here is how to follow them up to get responses and, preferably, positive ones. AmazingHiring team has been working with tech candidates […]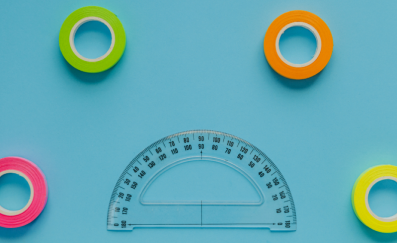 Disclaimer: The article is created based on materials provided by Yves Greijn, Lead Engineering Sourcer (ex-QuantumBlack, now Miro), Neha Naik, CEO of recruitgyan.com, and Monika Nemcova (AIHR, ex-Content Marketer from harver.com) How do you measure your recruiting success? We have prepared an ultimate list of recruiting & sourcing metrics to be checked regularly. All metrics formulas can […]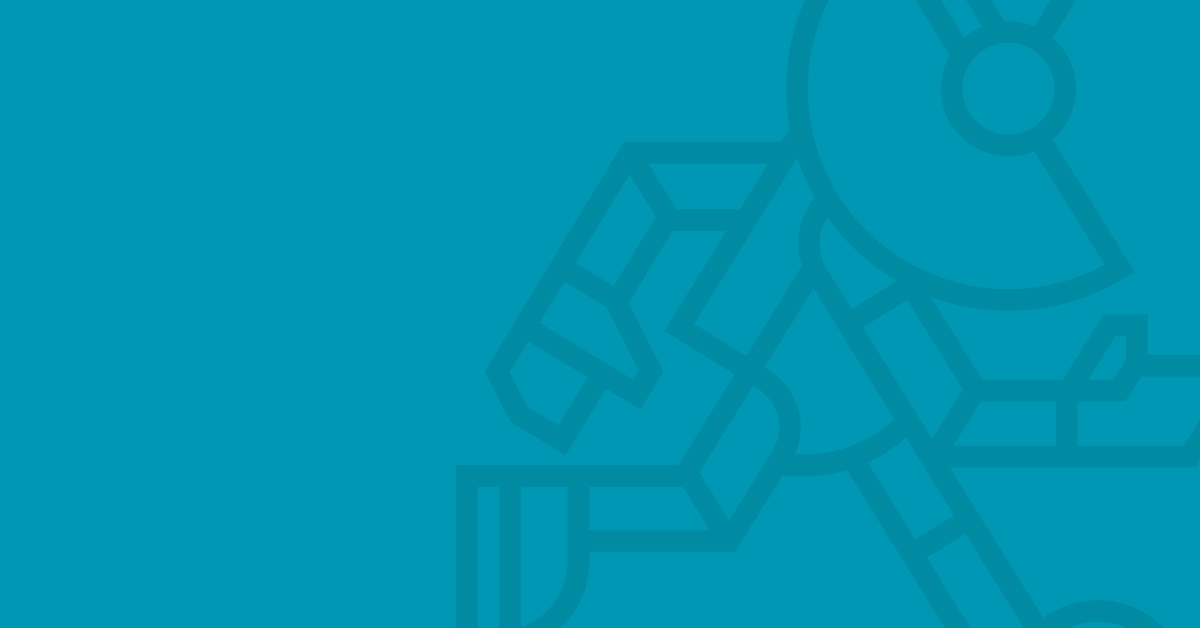 In this playbook, we speak about sourcing techniques and hacks for different social networks where you can find developers, software engineers, UX designers, DevOps, etc. Our experts share their step-by-step guide on how to build boolean searches and how to filter candidates. The playbook will be useful to recruiters who: want to make the most […]

-->