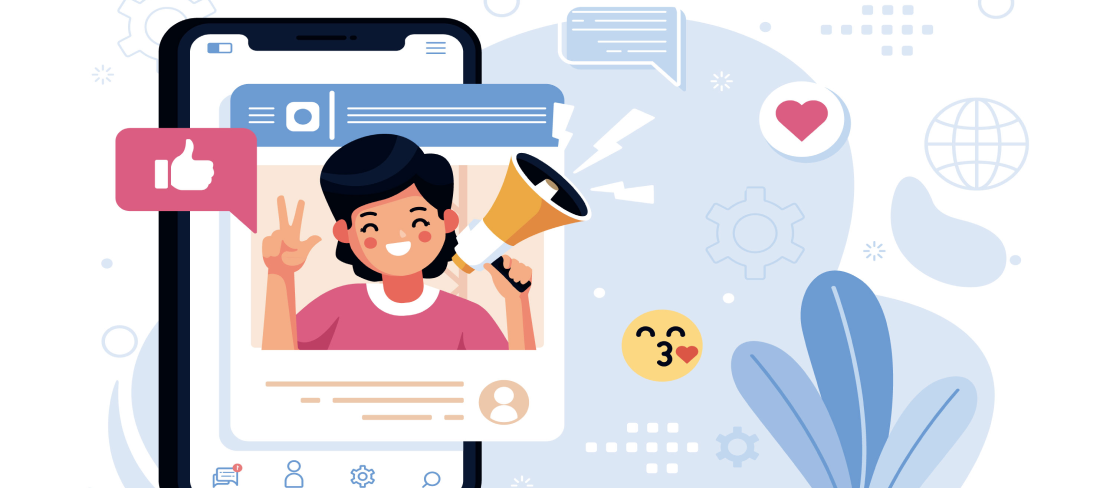 Free Tools For Social Media Sourcing
Social media is a valuable source of information for any recruiter. This is especially handy when you have to navigate at a highly competitive niche like software development. There is a massive shortage of talent in this space so that to find and hire the right candidate, you have to be very fast, proactive, and creative.
Here is a list of useful social media sourcing browser extensions that will help to boost your hiring process.
Improver.io: speeding up the pre-screening process
Matching candidate profiles with open positions can be overwhelming. Manually checking their skills and the requirements of the particular job is time-consuming. However, some solutions can help in automating this task. One of the most popular is Improver. 
This is a browser extension that automatically matches candidates' LinkedIn profiles with your company's current open positions. It can save tons of time. Also, the tool provides contact information to speed up communication.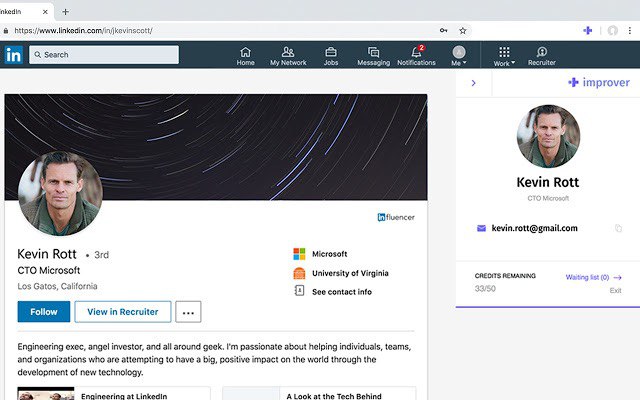 What can go wrong: Improver can't help to match profiles lacking data. So, you can potentially miss promising candidates.
AmazingHiring: collect all candidate's data in a single profile
As can be seen at Improver example, very often, just one social network can't be a good source of information. You need to track the candidate's digital footprint at multiple websites to collect all information that will help assess his or her skills as well as providing the foundation for successful communication. 
AmazingHiring extension is a perfect solution for this task. The system builds an aggregated profile of a candidate, collecting information from multiple public sources. The list includes social networks, professional communities, job boards, etc. Find a promising lead on LinkedIn, get info from Facebook, GitHub, and other websites, find out the best ways to contact the person, start communication! Also, the extension can search for information from social networks based on an email.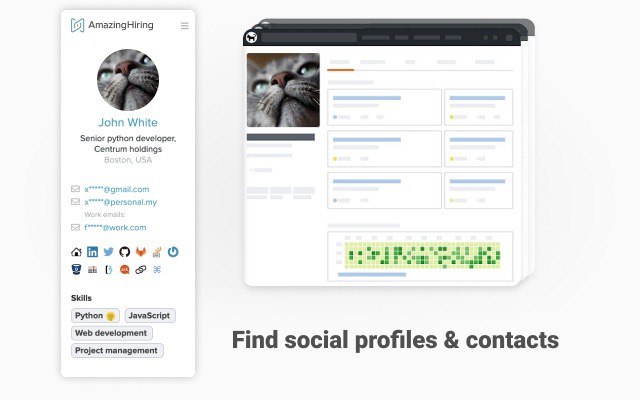 What can go wrong: the tool is tailored to a specific task of sourcing IT specialists. However, it can be potentially used for hiring in other industries as well. Read more about recruiting passive tech candidates.
Hunter.io: finding the candidate's email
Having a candidate's email is crucial for recruiters. An experienced professional's LinkedIn inbox is most likely full of messages from recruiters, so it will be tough to attract hir or her attention. Instead, it is better to use email to send a hand-crafted personalized offer. 
Hunter.io is a tool for discovering emails of people you want to contact. The process is straightforward: you need to get information about the current company of the person (or his personal website where an email can be attached), feed the URL to the system, and it will display the list of all email addresses associated with this domain. Most likely, you will find your candidate on the list.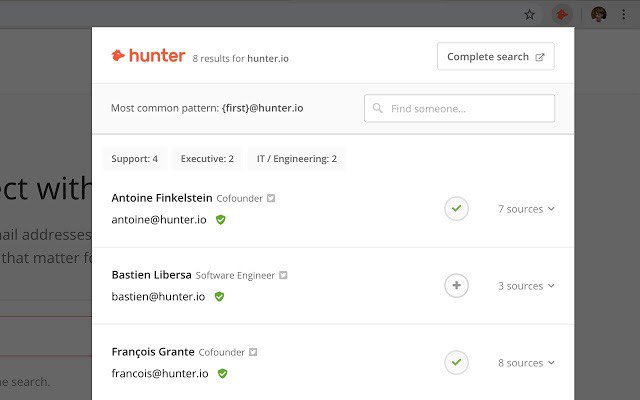 What can go wrong: Hunter is free, but free users can see only 50 emails attached to a specific URL. If your candidate works in a big company, chances are his email will not hit the TOP-50 list. The paid version does not have this issue, though.
Crystal: boost the communication process
Another big issue that occurs during the hiring process is finding the right tone for a conversation with a candidate. Usually, you do not know this person and need to guess how it is better to talk to increase the ROI of the communication. 
Crystal is a digital communication coach that generates personality-based advice for any email you are sending. The system analyzes the person's profile on LinkedIn, SalesForce, and HubSpot to tell his or her personality. The extension then gives real-time suggestions for emails.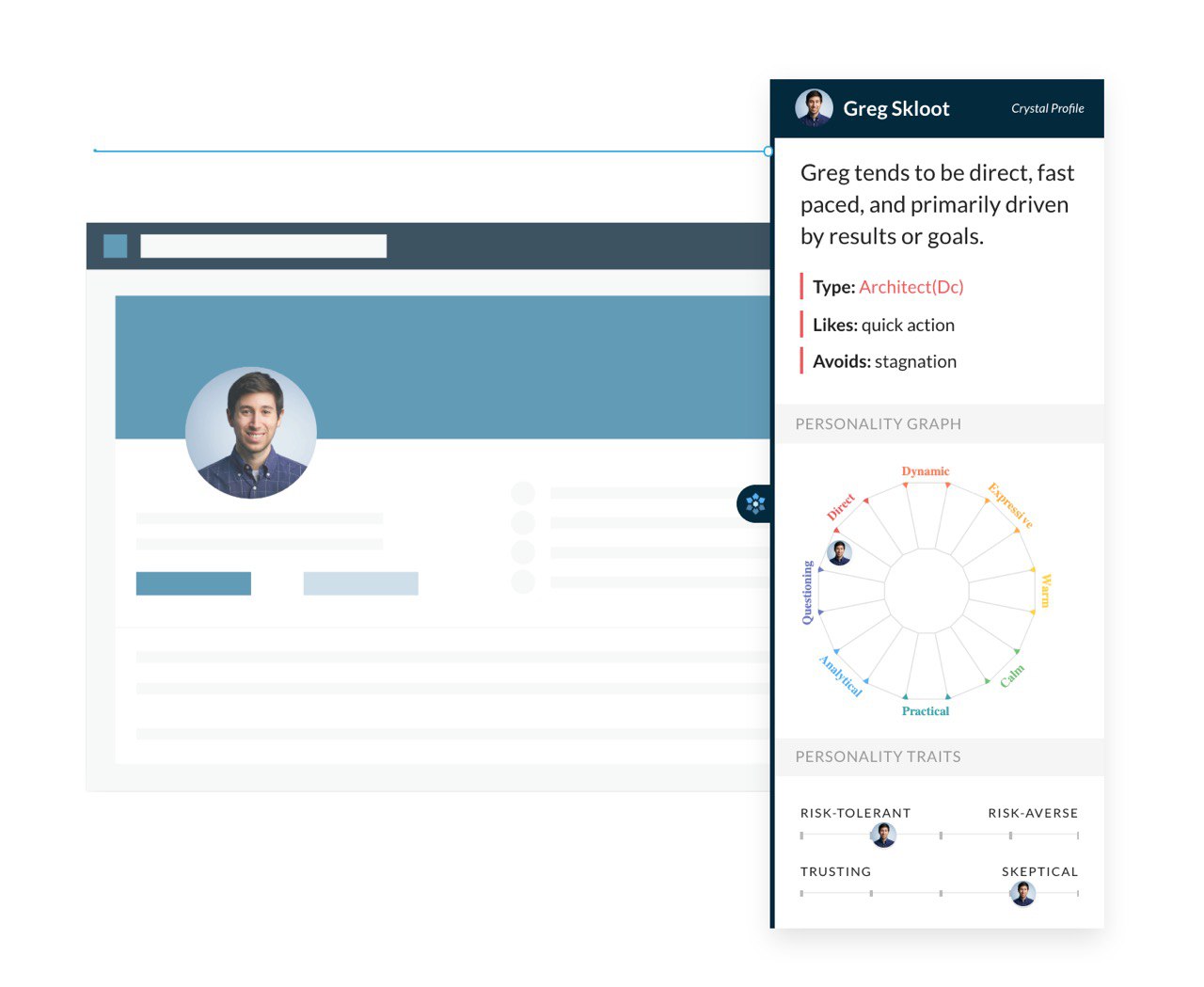 What can go wrong: an algorithm can make a mistake, people still better understand other people. So try to not overly rely on insights Crystal if you fill that recommendations do not suit the particular situation.
Final thoughts
Sourcing is a time and resource-consuming process, but happily, there are a bunch of handy tools. There is specialized software like Improver, Hunter, Crystal that aim at solving specialized tasks, and more universal solutions like AmazingHiring.
Hire IT candidates faster with AmazingHiring! 
Use AmazingHiring to source and hire the best software engineers, QA engineers, data scientists, UX/UI designers, and other technical specialists across social networks and professional communities with few clicks.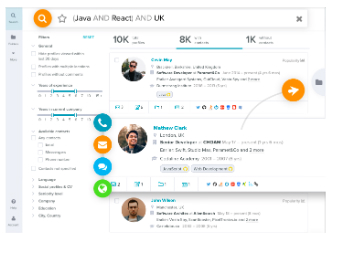 Book free demo
Join the AmazingHiring Sourcing Community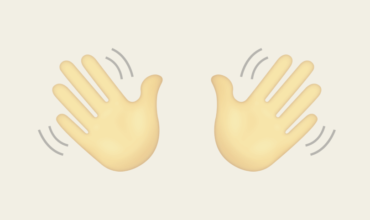 NB! Clubhouse is a brand new social network, and the information in this article might be not up-to-date. However, AmazingHiring takes great care in keeping this article fresh, so please check the date of the publication to know when the last review has been made. Let's start! What is Clubhouse, and what the fuss is […]
How to set up the candidate outreach right Recruiting challenges of 2021 start at the very beginning of the pipeline — with the search for the right candidates. It's not an easy task to complete, especially when there is a lack of specialists for certain technical jobs in some countries. Plus, the fact that the […]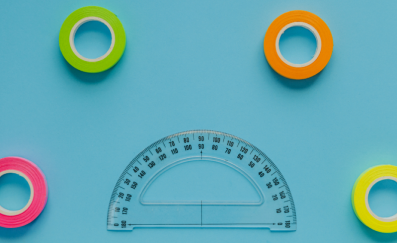 Disclaimer: The article is created based on materials provided by Yves Greijn, Lead Engineering Sourcer (ex-QuantumBlack, now Miro), Neha Naik, CEO of recruitgyan.com and Monika Nemcova (AIHR, ex-Content Marketer from harver.com) How do you measure your recruiting success? We have prepared an ultimate list of recruiting metrics to be checked regularly. All metrics formulas can be found […]