7 Signs You Need to Level Up your Outbound Recruitment Strategy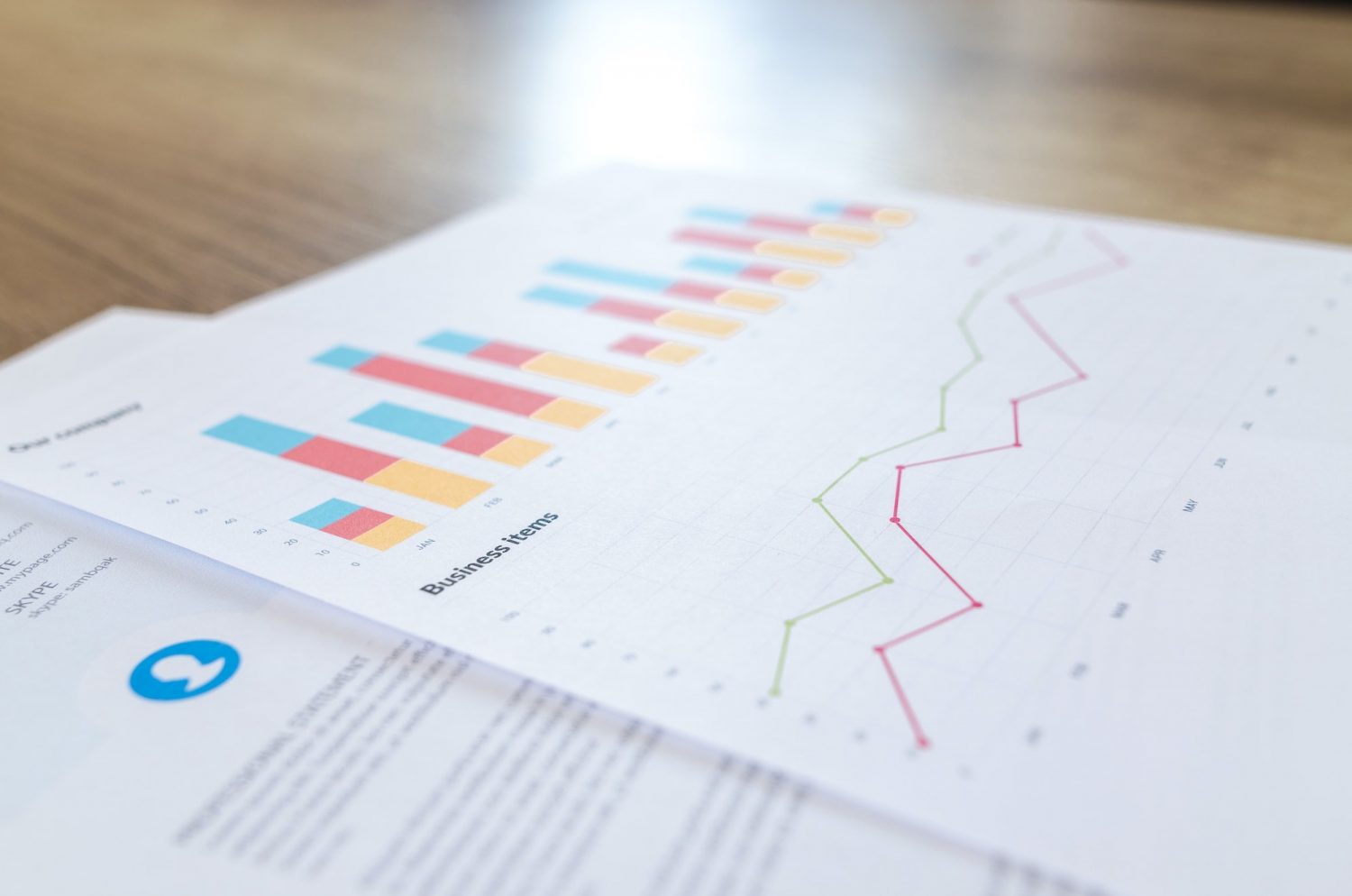 Current recruitment challenges
According to ManpowerGroup's recent Employment Outlook Survey, the global talent shortage has reached its highest level in the last 16 years. The gap between the number of job openings and people quitting their jobs hit a record-high this March, with 76% of employers around the globe struggling to find talents in 2022. 
The entire talent acquisition industry experiences considerable pressure, which is unlikely to change in the years to come. Additionally, things get even more difficult when it comes to filling tech roles, especially senior and executive positions.
In this light, publishing a job listings on different sources and waiting for candidates to come to you may not be enough, to say the least. When three out of four employers have hiring difficulties due to the shortage of supply in the talent market, it is time to take stronger action; it is time for outbound recruiting.
Outbound vs inbound recruiting
An outbound recruitment strategy focuses on actively seeking out and contacting specialists instead of waiting for them to apply for a job. This includes sourcing them from professional and social platforms and building personalized communication. For many recruiters, outbound hiring is a self-reliant way to take control of talent pipelines.
On the other hand, inbound recruiting is a relatively passive way of attracting talents. This strategy relies on improving recruitment marketing, employer branding, and positioning through social media, career sites, and job boards. This technique is designed to attract a constant flow of incoming candidates to apply for a company's open positions. In other words, it is more of a slow burn. Additionally, while the company works on its inbound strategy, it still needs candidates right now, sometimes even yesterday.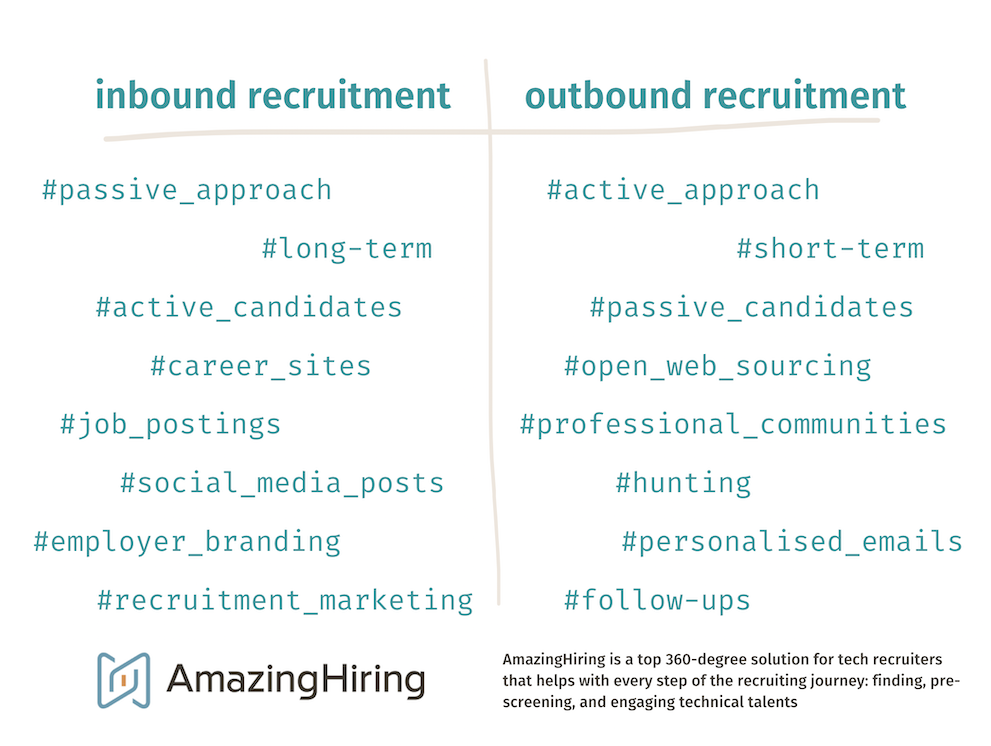 Thankfully though, with effective outbound recruitment, this is no longer a problem, but simply a task to accomplish. Although, achieving this requires having the right technical equipment; for example, a special outbound recruitment software for sourcing and candidate engagement. Luckily enough, that is exactly what AmazingHiring has been designed to do. It has proven to be a perfect assistant for tech recruiters who want to proactively find the best tech candidates in the shortest amount of time.
7 signs you need to level up your outbound recruitment strategy
Unsure whether you or your team needs to level up your outbound strategy? Here, we have prepared a checklist of signs that might help you decide:
1. You work in tech or any other candidate-driven market. 
IT and data specialists are the most sought-after by recruiters, globally. The number of open tech roles continues to grow every year while 80% of developers are not looking for a new job. There are more roles to fill than candidates available on the market. So, it's no wonder why most tech specialists don't need to do anything in order to end up buried in recruiters' emails and job offers. 
Though, apart from just finding a candidate, tech recruiters need to evaluate their skill set and experience, along with many other aspects, to decide whether, and how, to approach them. So, as you can see, one needs to break a sweat if they want to close a position — or use an outbound recruiting method.
AmazingHiring makes outbound hiring much easier. It provides its users with access to 70+ social and professional web sources and advanced tech-specific search options.
2. You struggle to predict your talent pipelines'

metrics

.
Do you know how many applicants you will have next month? What if other companies begin a more active style of candidate hunting? What if one of your coworkers suddenly resigns? Even without any "black swans", it's pretty hard to predict pipeline numbers when a recruiting process relies solely on applicant flow. Especially if your company is not yet well known.
Outbound recruitment, however, puts you in control. It empowers you to find the candidates you need, when you need them.
3. You need more qualified applicants.
No one expects all candidates to be able to check off every single bullet point in a job description. However, sometimes you just cannot afford to even consider under-qualified candidates for certain roles. Particularly, if the role requires a hire that is ready to hit the ground running. The problem with inbound recruitment is that you cannot be sure that those who apply will have relevant experience.
On the contrary, with an outbound recruitment approach, you can target best-fit talents and engage with them. Plus, with access to AmazingHiring, you can build accurate search queries based on multiple parameters and filters (location, skill set, job title, past or current company, and many more).
#1 Playbook: The Ultimate Guide to Sourcing on Social Media
Subscribe to AmazingHiring's sourcing newsletter and get the #1 Playbook: The Ultimate Guide to Sourcing on Social Media
Unsubscribe at any time
4. You wish your time-to-hire was shorter.
Sometimes, you end up with far fewer applicants than you expected. Sometimes, candidates postpone interviews and calls or hold off on making a decision due to a multitude of reasons. Sometimes, your hiring performance metrics can vary from vacancy to vacancy, making you feel like you're losing control.
Then again, outbound hiring is the best way to shorten this period without affecting candidate experience. This can be achieved by investing in outbound recruiting platforms. 
5. Your company desires to strengthen its culture of diversity & inclusion in the workplace.
Diversity, equity, and inclusion initiatives are undoubtedly one of the most important recruitment trends in 2022; yet, it is one of the hardest to pursue as well. Outbound recruiting can come in handy when addressing diversity gaps. You can target minorities in your search or use blind hiring techniques to eliminate any unconscious bias. 
AmazingHiring, with its gender filter and blind hiring mode, can help here too.
6. You are not fluent in reading the candidate market.
The talent market can be volatile. It responds quickly to any changes or trends happening within the industry. Not knowing what your candidate market looks like, and not following its ever-changing current, could easily result in a waste of time and resources. 
Outbound recruiting strategy goes hand in hand with market exploration. Insights from the talent pool's aggregated data can help build the most successful search strategy you'll ever use.
With AmazingHiring's Talent Intelligence feature, you can get access to all vital talent market measurements visualized in real-time dashboards.
7. Your recruitment team consists of 5+ members.
When a company's number of recruiters gets bigger, team collaboration becomes crucial. Most likely, at some point, they will start targeting the same candidates — and if it is a tech recruitment team, that will inevitably happen sooner than later. 
The outbound recruiting method includes transparent prospect management, talent mapping, and other practices that help facilitate efficient work on one candidate market.
Do any signs ring a bell?
If some of the signs listed above sound familiar, implementing an outbound recruiting strategy might significantly upgrade your performance. But even if you can relate to just one characteristic, we still suggest giving it a try.
After all, outbound recruitment is not only about sourcing — it is also about shifting your recruiting paradigm from passive to proactive. And that can be a game-changer.
If you feel like you could use some help building an outbound recruiting strategy, you can start with AmazingHiring. Our all-in-one tech sourcing automation platform has successfully helped companies and organizations with sourcing tech talent and building meaningful candidate relationships for many years.
80% of Tech candidates are passive.
Level up your outbound
sourcing strategy.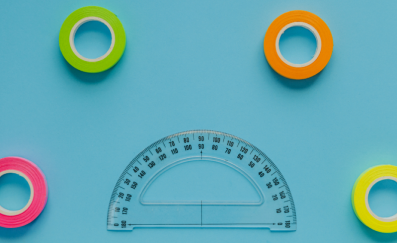 Disclaimer: The article is created based on materials provided by Yves Greijn, Lead Engineering Sourcer (ex-QuantumBlack, now Miro), Neha Naik, CEO of recruitgyan.com, and Monika Nemcova (AIHR, ex-Content Marketer from harver.com) How do you measure your recruiting success? We have prepared an ultimate list of recruiting & sourcing metrics to be checked regularly. All metrics formulas can […]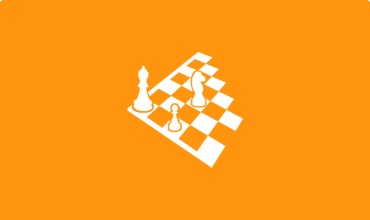 There are two types of employees. The first kind shows up to work late, doesn't put any effort, and waits impatiently for the clock to turn 5:00 p.m. so they can leave the office. The second type is the employees who show up on time, are enthusiastic about their job, and are engaged in their […]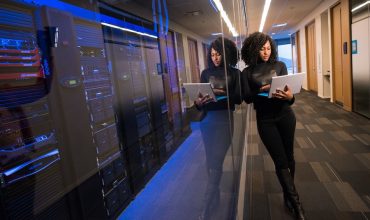 Hiring the right employees can elevate your business to new standards. But finding the right employees or candidates is not always easy. Many applicants have vast experiences and backgrounds, but not all may fit well within your company. This is why you need a tech recruiting strategy to cut through the noise and find the […]

-->