A recruiter's job is sometimes extremely tough. It is a fast-moving industry with an incredible level of competition among thousands of companies for top talent. Getting through a recruiting funnel might take many months, especially if it comes to finding senior specialists.
Hours of sourcing and screening, hundreds of often not enough qualified applicants, dozens mailing campaigns on a daily basis. It hurts just thinking about it. We really feel this pain. That is why we, at AmazingHiring, work so much to make sourcing easier and more efficient. And we are happy to know our platform really makes a difference.
But, of course, sourcing is not the only part of a recruiter's job. Having sourced and contacted candidates, you need to assess them and that is another mammoth task.
Again, here is where rapid technologization comes in really handy and helps save precious time due to a wide range of special platforms and tools designed to ease modern recruiting.
The number of online assessment tools grows fast and no wonder — the demand for such help is rightly huge. Such platforms make the assessment process easier as they save time on things that might and therefore should be automated and delegated to special software. Besides, they do help make assessment fairer and more objective as most of the platforms provide a blind review based solely on skills analysis. That eliminates the unconscious influence of gender, age, ethnicity, education level, and other potential biases.
We have researched a whole lot of assessment platforms for technical recruiters and now are ready to share the best tools on the market we consider worth checking out. 
Codility is a proven top solution for technical recruitment that allows to test developers' programming skills and conduct coding interviews. The platform is best suited for remote and high-scale hiring, building diverse teams and organizing coding challenges. It consists of three main parts: CodeCheck allows designing advanced tech assessments for candidates, CodeLive is an online pair programming platform for conducting live coding interviews at scale, and with CodeChallenge users can organize a coding event to attract prospects. There are more than 40 programming languages and technologies covered. Price upon request.
      2. HackerRank 
HackerRank is a technical interview platform for identifying and hiring software developers. The HackerRank Developer Skills Platform helps with each step of the recruitment journey. A user can start with planning hiring processes, sourcing candidates on HackerRank, automating screening profiles, creating skill tests with a variety of pre-built templates, conducting online interviews, and ranking the best candidates. Price upon request. 
HackerRank is also a community of more than 15 million skilled developers which makes it an actual talent pool. By the way, with our Chrome extension you can get more info about candidates while sourcing them on different social and professional networks: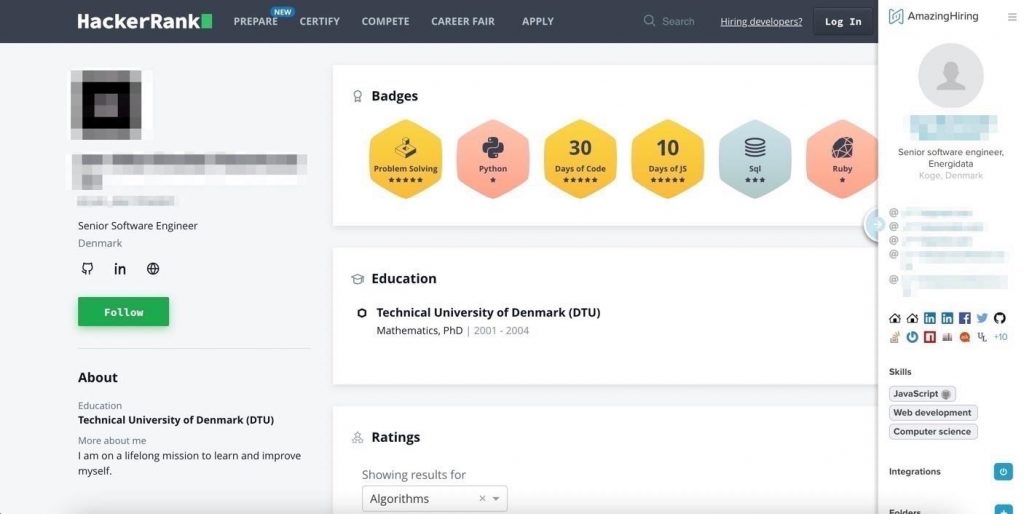 CodeInterview is a technical skills screening platform for hiring developers. With CodeInterview, you can run automated screening tests and coding interviews to accurately evaluate candidates. You get a standard code editor interface plus the option to hold whiteboard interviews and evaluate front-end skills using a built-in browser. What's different about this platform is the simple UI and pay-as-you-go pricing. You can try it free of charge for 10 days and then pay $5 per interview or get a monthly subscription from just $49 for 20 interviews per month.
      4. Toggl Hire 
Toggle Hire is a skill screening platform that allows recruiters to quickly create skill tests as a first-pass filter for a job. A user can create a smart test in a few clicks, share it with candidates, filter the results and get stats and analytics on them. The platform's database accounts for about 8000 questions and provides auto-generated skill tests for 76 job roles that also include various software development, data science & machine learning and product & design roles. Best for small to midsize businesses. Pricing starts at $99 per month.
      5. CodeSignal 
CodeSignal is a coding tests and assessments platform for hiring at scale. It provides a real-world development environment for assessment (a so-called flight simulator for developers), predefined test design, framework-based methodology, keystroke playback and more than 70 programming languages, frameworks, libraries and tools. CodeSignal's Certify, Test and Interview solutions allow recruiters to assess candidates at each step of the hiring process. Using state-of-the-art technology, the platform can predict candidates' skills, potential, and job performance. It is best suited for hyper-growth teams and scale university recruiting. Price upon request.
#1 Playbook: The Ultimate Guide to Sourcing on Social Media
Subscribe to AmazingHiring's sourcing newsletter and get the #1 Playbook: The Ultimate Guide to Sourcing on Social Media
Unsubscribe at any time
      6. CodinGame 
CodinGame is a tech recruiting platform for creating game-based coding tests with almost 97% completion rate. It makes an accurate and objective snapshot of candidates' technical skills and is designed to help users interview only those who meet the company's technical standards. Beside that, users can source candidates there as CodinGames also has a community of more than 2 million developers. The platform covers 60 technologies, 3,500 questions and 15 million coding challenges and provides detailed test reports to make the decision-making process more objective. Pricing starts at $249 per month.
      7. Coderbyte 
Coderbyte is a code assessment platform for screening, interviews and take-home projects. It has more than 400 code challenges which users can modify to create their own assessments based on the built-in templates. Code Interview solution allows to conduct remote interviews and code-pairing in a live programming environment to simulate whiteboard sessions with the best candidates. The interview prep platform is also used for employees' ongoing learning and development. Code Projects helps with creating real-world take-home projects that users can view, run and analyze on the web with GitHub integration. Pricing starts at $199 per month.
      8. WeCP (We Create Problems) 
WeCP is a technical skills assessment tool with the largest database of unique questions. It allows users to create tests in minutes due to a wide range of pre-built assessments that they can run at scale (inviting up to 100 thousand simultaneous participants). With WeCP users can also conduct live remote interviews and get auto-generated detailed reports over candidates' performance. The question bank accounts for about 200 thousand unique questions over more than 2000 tech skills and job roles. Price upon request.
      9. Qualified 
Qualified is a coding test and assessment tool that helps screen and hire technical talent faster and more efficiently. The platform contains expertly designed pre-built tests with detailed benchmarking statistics that explains the relative difficulty of each assessment. Users can also create their own coding challenges or delegate it to the Qualified team who will recreate unique coding projects based on the client's requirements and needs. Besides, the company provides a full suite of code review and pair-programming interview tools, code playback, and blind review features. Qualified also has its own educational community for computer programming — CodeWars. Price upon request.
      10. Talview 
Talview is a relatively new AI-powered solution for hiring and proctoring. Its Online Coding Test Platform allows users to easily assess candidates' proficiency in a great variety of modern programming languages, frameworks, libraries and business applications. Talent Assessment functionality provides a broad range of expert validated content to make sure the high quality of the test. Within a proctored environment recruiters can securely test candidates' skills in more than 52 different programming languages live on screen without worrying about cheating or fraudulence. Real-time reporting helps with tracking important recruiting metrics. Price upon request.
Finding this article insightful?
Top Recruiters create content for AmazingHiring.
Subscribe to receive 1 curated newsletter per month with our latest blog posts.
Conclusions
All of the tools (and many more of those we have not mentioned here today) are aimed at making the assessment process fairer and better. But probably the more important and, we guess, less obvious part of it is that the growing roster of assessment platforms makes hiring easier, faster, a bit more gamified and thus just more enjoyable. For candidates when they fulfil tasks and for recruiters when they win back their precious time to do things no platform could.
80% of Tech candidates are passive.
Level up your outbound
sourcing strategy.
#1 Playbook: The Ultimate Guide to Sourcing on Social Media
Subscribe to AmazingHiring's sourcing newsletter and get the #1 Playbook: The Ultimate Guide to Sourcing on Social Media
Unsubscribe at any time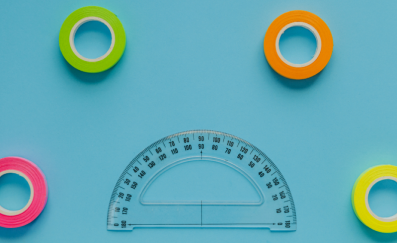 Disclaimer: The article is created based on materials provided by Yves Greijn, Lead Engineering Sourcer (ex-QuantumBlack, now Miro), Neha Naik, CEO of recruitgyan.com, and Monika Nemcova (AIHR, ex-Content Marketer from harver.com) How do you measure your recruiting success? We have prepared an ultimate list of recruiting & sourcing metrics to be checked regularly. All metrics formulas can […]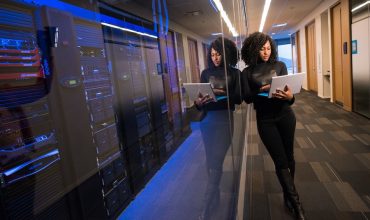 Hiring the right employees can elevate your business to new standards. But finding the right employees or candidates is not always easy. Many applicants have vast experiences and backgrounds, but not all may fit well within your company. This is why you need a tech recruiting strategy to cut through the noise and find the […]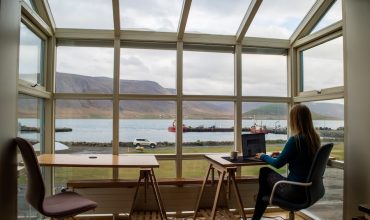 What the data tells about the 2021 tech labor market While 2020 was a year of layoff announcements and the supply of engineering talent exceeding the demand, at the end of 2020 Microsoft predicted a five-fold increase in the total number of tech-oriented jobs across the world. They were not mistaken. 2021 can now be […]

-->